One of the things I'm trying to keep in mind in the new year is the impact my everyday actions have on the environment.  This includes traveling in a more sustainable way. The thing is that quite often, these choices can feel like a drag, especially when you're on vacation.
On our recent trip to Amsterdam, we discovered a hotel working to make going green feel hip and even fun.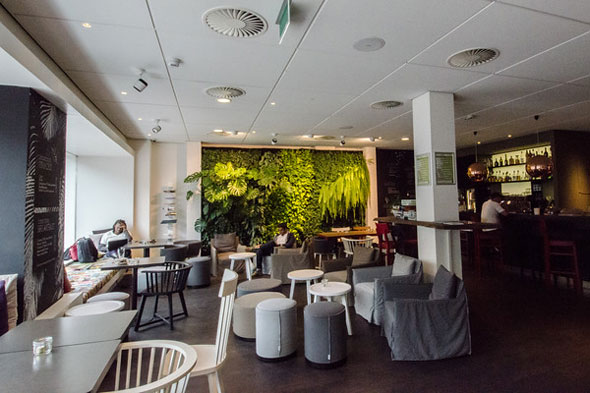 Conscious Hotel Vondelpark is a design-oriented hotel located next to the city's biggest park, Vondelpark (one of the top things to see in Amsterdam). The hotel is attractive, comfortable, and convenient, but it's biggest selling point is the impressive list of sustainability features that help you minimize your impact on the planet when you travel.
But you couldn't tell that from looking at the room.
The rooms were stylish and comfortable with bright graphic wall art and quirky accents like this throw pillow printed with a historic map of Amsterdam. These little touches brightened up the simple, modern decor.
Sustainable features include natural beds and bed linens, furniture made from recycled materials, and green cleaning products used by the staff.  Small speech bubbles mounted in various spots around the room highlight the other eco-friendly features you might not otherwise notice. The power outlet told us that the hotel's power comes from 100% sustainable sources like solar and wind, the refillable shampoo dispenser argued it's superiority over disposables, and the towel cleverly convincing us to reuse him, asking us for "another date." It was a cute reminder that sustainability is everyone's responsibility.
Other strengths make the hotel a great choice for first-time travelers to Amsterdam. The hotel is located just beyond the inner canal ring area right next to the city's biggest park (Vondelpark) and within a short walk from the major museum district (Museumplein).  The  Overtoomsesluis stop on the #1 Metro rail line is right across the street, so it's easy to get to anywhere in the city. And because it's a mostly residential neighborhood with fewer tourists,  the diverse restaurants, shops, and cafes nearby give you a taste of what living in Amsterdam is like.
View of Overtoom Street, from our window
One of the ponds and fountains in Vondelpark.
The comfortable bar and common area give the feel of hanging out in a cool cafe, not a sterile hotel lobby. The bar features several organic beers on tap, fresh squeezed juices, and lots of green and local beverages. We spent a lot of time in that lobby, lounging on the quilted window seats while drinking coffee and kombucha and catching up on work.
The hotel had good looking options for hot and cold breakfast, as well…
Extras: You can't leave Amsterdam without renting a bike and the hotel makes it easy by renting them out on site.  The hotel can also arrange an all-electric green car service though the light rail right out front makes a convenient budget option for touring the canal rings.
Good value for money: Rooms at the Conscious Hotel Vondelpark start at only $73 USD, which is a really great deal in Amsterdam.  I would recommend it for a first-time traveler to Amsterdam or anyone who is looking for a sustainable place to stay on a budget.
---
I was a guest of Conscious Hotels. All opinions are my own.