This article is a guest post by Cathy Harkness.
I just recently got back from visiting my new favorite U.S. city, Austin, Texas. This quirky and bohemian city offers interesting things around every corner and I wanted to share some of my favorite local experiences and things to do in Austin, Texas — more than enough for a weekend getaway.
Flickr/nickmickolas
Quirky South Congress Shopping: I loved browsing Austin's unique local stores for vintage, artsy, and local finds. Here are some of my favorite stores:
On the corner of South Congress and Monroe is Allen's Boots (1522 South Congress Ave). Go in and admire the vast array of colorful and unique cowboy boots!
Next to Allen's Boots is a curious antique store called Uncommon Objects (1512 S Congress Ave). The website describes it as, "your eccentric uncle's attic on steroids". It is very expensive, but you must look inside and experience the oddities and funkiness packed into every square inch.
Go to the store Maya (1508 S Congress Ave) They have incredibly fun and fashionable stuff. They also sell these sweet little dinosaur-shaped planters that I am in love with. They also sell "I Love You So Much" (see below) dog tags in the shape of a bone. It is really cute to get one for your dog so that your dog is constantly telling you (and the world!) how much she loves you.
There is a large selection of vintage stores in the South Congress and First Street area. Go in one of these stores and ask for the map of all vintage stores in the area. Try to hit them all, or as many as you can! Some of my favorites include New Bohemia, Ragalicious, and the St. Vincent de Paul thrift store on South Congress Ave.
"I Love You So Much": Go to the corner of James and South Congress and look for the the phrase, "I Love You So Much" scrawled on the side of "Jo's Café." This iconic sign faces James Street. It is an Austin institution! Ask as many locals as you can for the story behind the graffiti. Each time you hear the story it is slightly different, and always wonderful!
BATS!!! Austin has the largest, urban bat colony in the world! There are somewhere between 750,000 and one  million Mexican Free-Tailed Bats living under the South Congress Avenue Bridge. Each night in the summer, they fly out in an awe-inspiring mass exodus. It is one of the most incredible experiences I have ever had in my life. Be there at least 45 minutes or so before dusk to get a good viewing spot. For the best views, it's your choice of being on the bridge or below it (although you do run the risk of being hit with guano if you are below!)
For more information and photos from a visit to the South Congress bat colony, check out this post: A Daring Date With the Bats of Austin, Texas. 

Flickr/mclendening
Saturday Street Fair. This fair on South Congress Ave. is on the sidelines, in between stores, in vacant lots. It sells awesome local, fun crafts and things. Look for the tents between buildings. It usually goes all day but of course get there early for the best finds. Also, you never know if the vendors might close early.
Browse the weekly Farmer's Market: I only went to the smaller, Wednesday afternoon market, but the farmers were personable and fun to talk to. There are several larger Saturday markets that I'm sure are epic!
Visit the Flagship Whole Foods Store: It is incredible! It has a walk-in beer fridge (again — HUGE!), a smoothie bar, a coffee bar, multiple prepared food bars, a BBQ joint, a self-serve buffet of cookies, and multiple levels of underground parking. It is a must to visit for any natural foods lover. Also, near the smoothie bar there is an art vending machine converted from an old cigarette vending machine. I tried to buy a piece of art from it when I was there, but the machine was broken. See if it is fixed, and please support the local artists for me!
The Broken Spoke: A busy local line dancing hall/bar. Even if you don't pay to dance, you have to go in to see the display of all the famous people who have been there or performed there. It is the REAL DEAL!
Flickr /atmtx
Where to Eat in Austin
Franklin's BBQ: Being a vegetarian I can't comment on the awesomeness, of this BBQ institution, but my boyfriend raved about it. Franklin's is an Austin institution, but be warned: The line are LONG (5 hours or more!) Come early–no later than 9:00 AM if you want to ensure you get in before they sell out of food. Come prepared to wait with some cold drinks (alcoholic drinks will help you make more friends in line, and in this crowd, it is totally acceptable to start drinking at 9:00 AM!) There are chair rentals available (look for the guy with the plethora of hot pink folding chairs). Wash down your barbecue with some local "Big Red" soda. Also, Franklin's pies are fantastic, so take some to go.
Torchy's Tacos: This local taco stand  has several locations as well as a food truck. Go to the "trailer park" location (1311 South First Street) for an authentically Austin experience, but really any Torchy's should be great. They have several vegetarian options including a fried avocado taco. If you are there buy a bottle of their award-winning Diablo hot sauce. (And bring some back for me!)
Bouldin Creek Café: This is one of the best places in town for their amazing vegetarian food. Everything on their menu is or can be made vegan. There are other places in the city that were vegetarian-friendly, but none of them really stood out. The food here is incredible, and the ambiance is lovely. It is also staffed by cute, young, hippie-hipsters. They also have a good selection of coffee and drinks including a champagne mojito!
Hey Cupcake: On the corner of South Congress and Monroe there is also a tasty cupcake food truck that operates out of an Airstream trailer. It is called "Hey Cupcake!" Look for the giant, pink cupcake on top.
Flickr / sheeshoo
---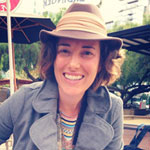 Cathy Harkness is an elementary school teacher in Palo Alto, California. When she's not working, she looks for culinary, eco-friendly and dog-friendly adventures in the San Francisco Bay Area.