All vegetarian have their rules. There are many reasons people choose this increasingly common lifestyle, so everyone does it a bit differently.
Some vegetarians (actually vegan), eat no meat, fish, dairy, or eggs. Others, trying to limit their consumption of saturated fat, don't eat beef and pork, but are fine with chicken and fish. In college, I had a biology professor that only ate meat when she was doing her fieldwork in Africa, because she believed the animals there were raised and slaughtered more humanely than they are in the U.S.
Me, I stopped eating meat when I was twelve. I had just learned about the animal welfare issues surrounding factory farming, and I knew I didn't want to support this system. As I've grown older and learned that the market offers more humane choices, this has become somewhat less of an issue, but my concern for the environmental impact of animal agriculture persists. Agricultural pollution and climate change are the main reasons I'm vegetarian today.
The second reason is my health. It's hard enough to keep my cholesterol and calories at bay when I so love cheese and sweets–I can't imagine being able to maintain a healthy diet if I also ate meat.
Last, I just don't have an interest in or craving for meat. Meat-free and plant-based foods are so common today that even when traveling, I rarely have trouble finding something I'd rather eat. So I don't need meat, nor do I really want it.
But there are two odd exceptions to my rules…
1. "Creative" Uses of Bacon
Who doesn't love bacon? The smell of it frying makes my mouth water, and the popularity of bacon memes on the internet show me that most everyone agrees.
Still, I choose not to eat it. Remember how I said I worry about my health? As amazing as it tastes, I can't bear the thought of its fatty goodness filling my arteries.
In recent years, I've seen a lot of chefs and creative food companies experimenting with using the food as an ingredient to flavor a dish, most often in sweet recipes. Maple-bacon donuts, bacon and salted almond ice cream, and chocolate-covered bacon are some things you may have seen around. In the spirit of fostering this creativity and eating adventurously, I allow myself to indulge in these uncommon creations.
So this fragrant and crispy fried bacon is a no…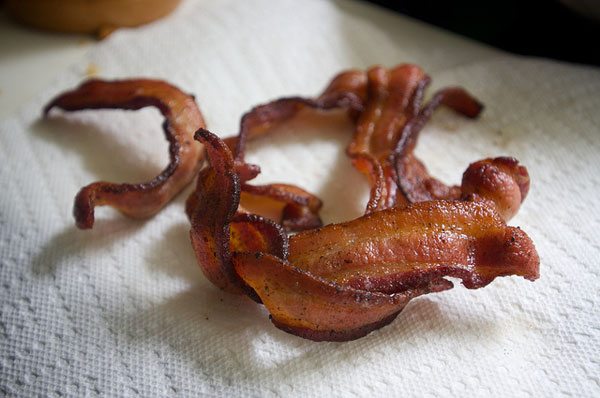 But this Bacon Caesar, made with house-made, bacon-infused vodka, is a yes!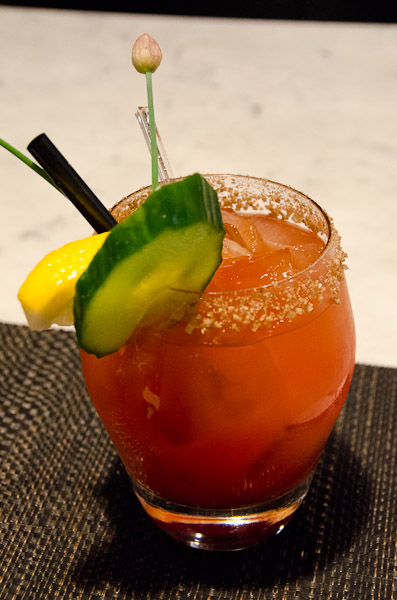 (I tried this Bacon Caesar recently at Mercer Hall, in Stratford, Ontario. I'm trying to replicate this delicious beverage at home so stay tuned for the recipe!)
2. Edible Insects
I love insects. I studied entomology for a while back in college and I've remained fascinated by this diverse segment of the animal kingdom. Likewise, I'm fascinated by the many cultures in the world that eat insects. They are a great source of protein, they don't cost much to harvest, and have less of far less of an environmental impact than other higher forms of animal agriculture.
So whenever I have the opportunity to try eating bugs I do, though I admit it makes me squirm. The first time I tried chocolate-covered crickets, the legs got stuck in my teeth and, because I didn't have anything to rinse out my mouth, I ran to the restroom and nearly vomited. When I visited Oaxaca, Mexico, I saw fried grasshoppers for sale in a local market, but couldn't get up the nerve to try them. I made up for that recently at a Oaxacan restaurant in my home town, where I sampled them fried, salted and served with guacamole (this time, I pulled the legs off first!) Last fall, I tried the beetle larvae pictured above, at a market in Otavalo, Ecuador. The elderly indigenous woman selling them didn't charge me for the bag because she enjoyed laughing at me as I wrinkled my nose and psyched myself up for the task.
Crazy Americans…
Photo Credit: Fried Bacon, Flickr/Shutterbean.