One of the interesting effects of globalization is that when you visit the smallest community in a developing country you'll find that the typical dress, more often than not, is covered with brightly colored logos from home. For example, I've seen people wearing "Gap" sweatshirts all over Latin America, even though I'm pretty sure the company does not have brick and mortar stores outside of the US, Canada, and Europe. I figure that most of the brand-name clothing I see south of the border are knock offs.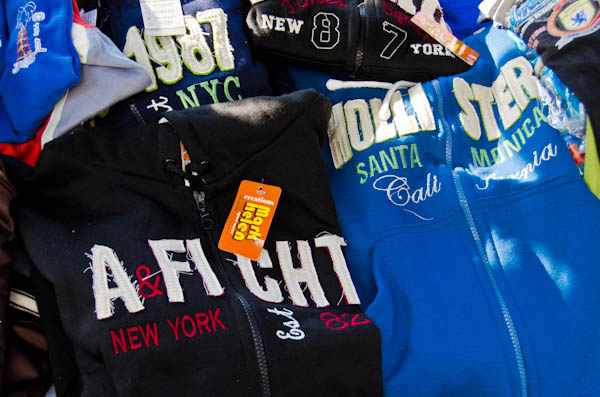 When we went to Ecuador, I started to notice the particularly low-quality of these ever-present knock off sweatshirts. The letter shapes were irregular and badly fraying, some of them had logos sewn a little bit off-center. And then we saw this market stall in Otavalo, where we found the "Abercrombie & Fitch" logo on this black sweatshirt was even misspelled.
I didn't have the heart to tell the saleswoman why I was so eager to take this photo.
---
Foto Friday is a series where I go back through my archives to share photos that I love either because I think they are beautiful or they have an interesting story. I hope you enjoy them as much as I do!