Here in the United States, baseball season is here. I'm not a big sports fan, but I do have fond memories of playing softball and going to games with my dad when I was a kid. Plus, I am married to one of the biggest fans of the 2014 (2010, and 2012!) World Champion San Francisco Giants. So, I always enjoy catching a ballgame. It's a sign of spring, just like blossoms and barbecues.
When we were planning our trip to Japan last year, Kevin the sports traveler, was keen to notice that Japan's Major League baseball spring training games would be happening while we were there. While the "American pastime" pales in comparison to how popular soccer is around the world, baseball is big and becoming more popular in Latin America and the Caribbean.  And baseball is huge in Japan, where it has been one of the most popular sports since it was introduced to the country by an American English teacher back in 1872.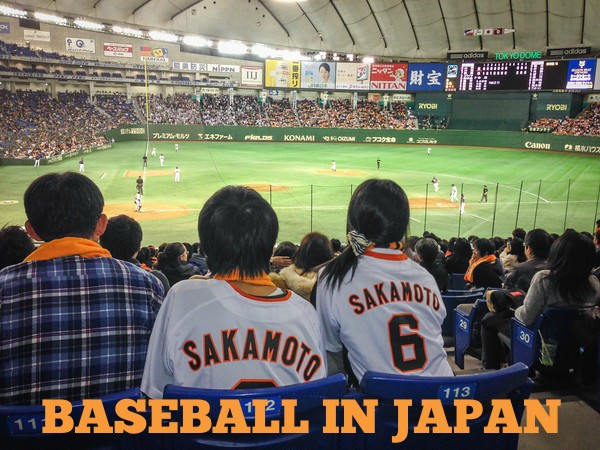 I was excited to discover that Tokyo's Yomiuri Giants had a home game on our first full day in Japan, so we booked tickets right away. We miraculously navigated the Tokyo subway that first night and made it to the game.  It was the same familiar game, but several things about the experience made it unique and oh-so Japanese!
The Tokyo Dome (nicknamed "The Big Egg") stadium seats 55,000. The arena complex ("Tokyo Dome City"), includes a major urban amusement park and an onsen (traditional Japanese hot spring spa).
The home team Yomiuri Giants' logo and orange and black uniforms were quite clearly modeled on those of our very own San Francisco Giants!
Some views of the field from our midlevel seats–and 18-200 mm lens.
Can you read the scoreboard?
You might notice that the outfield seats are completely full while there was plenty of open seating behind the plate.  The die-hard fans sit together out there.
Japanese baseball games sound a lot different than American games. Japanese fans (led by the wild outfield section) chant and sing in unison. If you've ever been to a major league soccer game or FIFA soccer match, it's a lot like that.
But never fear–just like in the US, Japanese baseball fans also turn out with the Big Foam Finger.
Another big difference between U.S. and Japanese games is that Japanese baseball teams have cheerleaders, just like U.S. football and basketball teams.
The stadium also featured a small army of neon-clad beer delivery girls, pouring Japanese draught beers from the tap built into their "beer backpack"!
The backpacks were small, but I was still impressed by the speed at which these ladies ran up and down the stairs hauling those heavy kegs.
AND, being Japan, the team mascots were ridiculously cute.
Also, being Japan, food is a key part of this (or any) experience. There were concessions stands that featured typical rice and noodle bowls and Japanese soups…
… in addition to stands serving US fast food and stadium favorites like hot dogs, hamburgers, and nachos.
Whiskey is big in Japan, and the Stadium Bar sold a selection of liquors made by Japanese spirits giant, Suntory Whisky. Booze aficionados will recognize Suntory–they recently purchased US-based Beam Inc, maker of "all-American" Tennessee bourbons Jim Beam and Makers Mark.
This sign was NOT lost in translation…
But this one totally was. Anyone know what the picket sign being marched along the field says?
We were jetlagged and didn't stay to the end so we never found out who won (hell, I don't even remember who the Giants were playing!) but the game was a memorable travel experience.
With that said, happy spring and play ball!