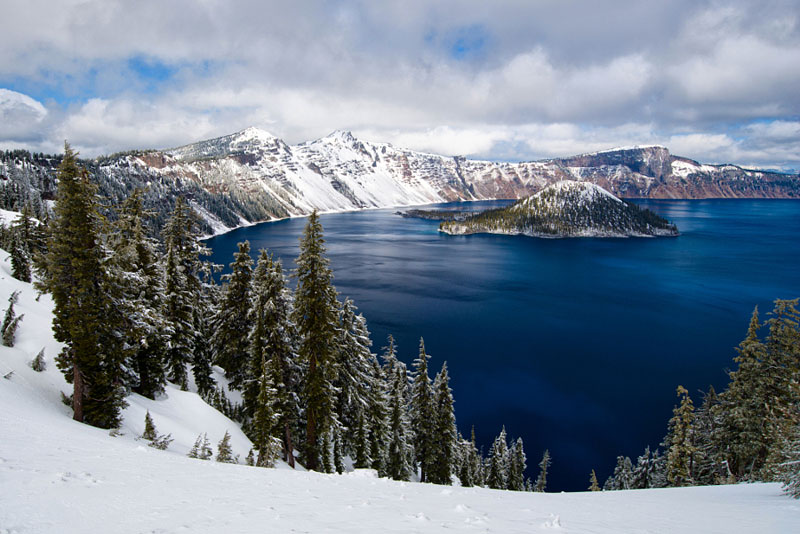 Not my photo, sadly. Source: Nathan Richey
One
It was 2011. I was in Southern Oregon with Kevin's dad and brother for a wildlife photography conference and road trip up the Oregon coast. I was most excited to visit Crater Lake National Park to see the deep blue volcanic lake rimmed with white snow.
As we drove to the park from our hotel in Klamath Falls, the weather was beautiful, the sky was blue and roads were clear. There was some packed snow on the roads, but it was freshly plowed and not a problem for the 4 wheel drive SUV we had rented–just in case.
As we approached the visitor's center, it started to snow. By the time we parked the car, the snow was coming down hard it was a total white-out. Inside, the rangers told us that they had just closed the rim road and we would have to wait until the snow plow could get through to clear the road. The snow was already lightening up, but he estimated it would be about a two and half hour wait.
I looked at Kevin's dad and he shrugged. "We drove all this way, let's wait."
We settled into the visitor center, sprawling out in their video room. Over the next few hours, we watched three different documentary videos about the lake, learning how it formed 7,700 years ago when volcanic Mount Mazama, erupted and the mountain collapsed into itself. We listened to Native American tribespeople talk about how their ancestors witnessed the eruption and believed it to have been caused by a battle of two chiefs, one from the heavens and one from the earth. They kept the story alive in tales passed on through the generations.
Finally, the phone rang and the ranger announced that road was open! We cheered, packed up our jackets, and headed out to the car under bright blue skies.
On the ten-minute drive the rim road, it started to snow. By the time we got to the Rim Drive parking lot, it was a total white-out. We trudged through deep snow, the walkways hadn't been shoveled, over to the observation deck. I was standing right at the edge of the lake, but I could barely see my hand in front of my face.
Two
It was last year, the spring of 2015. My friends and I were on a long-weekend campervan road trip through Southern Oregon. This time, it was mid-April. It was sunny and beautiful, perfect spring weather. We hiked and looked for waterfalls, and took goofy pictures of our feet.
Still, I was most excited to finally see Crater Lake. I didn't even consider the possibility of snow.
And then we entered the national park…
When we pulled into the visitor's center in a total white-out, I knew what to expect. This time, though, there was no waiting it out. It was late in the afternoon and the park was about to close.
So we turned around and left.
Three
This year it was spring of 2016. I didn't even consider trying to go see Crater Lake when I started planning our birdwatching trip to Klamath Falls. It was too early in the year. I'd learned my lesson.
When we checked into our Klamath hotel, the front desk agent asked, "are you heading up to Crater Lake?"
"It's so early… won't there be snow?"
She shrugged, "possibly, but just check the weather report and the webcam before you leave." (Webcam? It turns out that the National Park Service maintains three different webcams to show current weather conditions at the park.)
I was reluctant to devote (and possibly waste!) more time driving Crater Lake, but I kept thinking about what she said.
I checked the weather report on Saturday night–things looked clear before about noon on Sunday, so we decided to get up early on our last day and decide. I woke at 6:30, powered on the computer, and pulled up the webcam feed for the entrance–all was clear.
Crater Lake, take three!
It was another sunny and beautiful day, blue skies and clear dry roads. We stopped to take lots of photos along the way.
It was a nice day for a drive. And I was FINALLY going to see the lake!
The GPS showed we were about 15 miles from the visitor's center when I started to see patches of snow and ice. By 12 miles it started to fill out and at 10 miles out, it was covered.
It had been plowed recently, but it was still pretty slick. I slowed down, but I could feel the tires on our little, rented economy level Kia start to slip around. The road seemed to be narrowing, with tall snow banks on either side of the road. We had no cell phone reception.
I realized it was time to turn back.
Do you remember the story of Moby Dick? The Herman Melville classic about a whaling ship's pursuit of a massive sperm whale who damaged their ship and injured the crew. Captain Ahab wanted revenge and became so obsessed with killing the giant white whale, that it consumed his life.
On the drive back to Klamath Falls, I tallied up all the time I had wasted time on three different Oregon vacations trying to get to Crater Lake. I regretted not renting a 4WD vehicle. I scrolled through the Instagram hashtag #CraterLake and photos people had tagged from crater view overlook on Facebook. There were dozens that had been posted in the last week on perfect, sunny days with clear views of the lake. I researched when the best time to visit would be–I decided that  I would need to try again in the summer, but noted that there were sometimes blizzards at the park as late as July.
Kevin called the lake, my "white whale," which I thought was a funny comparison, but true. I'm a little obsessed.
I'll catch you someday, Crater Lake.
Maybe.