This past winter, my friend Cathy and I drove south down California Highway 1 through Big Sur, for a weekend trip to Cambria and the Central Coast. Rather than find someone to watch our two dogs, we decided to bring them along. While it's definitely a bit more challenging to travel with pets in tow, we knew they would enjoy the trip to the beach and we were pleased to find the Central Coast offers a lot of dog-friendly things to do.
Driving Highway 1 with your dog? Here are some of our favorite dog-friendly Central Coast hotels, restaurants, and activities. (Never vacationed with your pet? Check out these tips for traveling with your dog.)
Dog-Friendly Hotels:
Knowing that many roadtripping travelers bring their pups along, there are actually a lot of dog-friendly hotels along the Central Coast. On this trip, Cathy and I stayed at Castle Inn, a lovingly renovated 1950's motel on Cambria's main coast road, Moonstone Beach Drive. They have a limited number of rooms that they allow pets in, so reserve early.
As you might guess from the address, the hotel's location is perfect, just steps away from Cambria's stunning Moonstone Beach. It made it easy to get out for both sunrise and sunset, and a scenic place to walk the dogs. This area includes protected wildlife habitat, so dogs must be on leash.
The room was comfortable and included some stylish, mid-century modern design elements. When we checked in, we were pleased to find staff had left each dog a plush dog bed and set of cheery red bowls.
On past trips to Cambria, I've stayed at a dog-friendly AirBnB rental (in the hills, a few miles from the coast), and another dog-friendly hotel downtown (near the dog park) but being such a close walk to the beach was the best choice.
Dog-Friendly Restaurants
Finding restaurants with dog-friendly outdoor patio seating, is often one of the hardest parts of traveling with dogs, but Cambria has a few delicious options.
Robin's Restaurant offers globally inspired cuisine from a historic adobe home in downtown Cambria. Dogs are allowed in their large, covered back patio, a gorgeous space filled with flowering plants lit by twinkling white lights. We were there during San Luis Obispo restaurant week so Cathy and I got to try an eclectic mix of dishes, featuring flavors from around the world. It was a surprising mix, going from Japanese, to Italian, to Indian in the consecutive courses, but they paired well.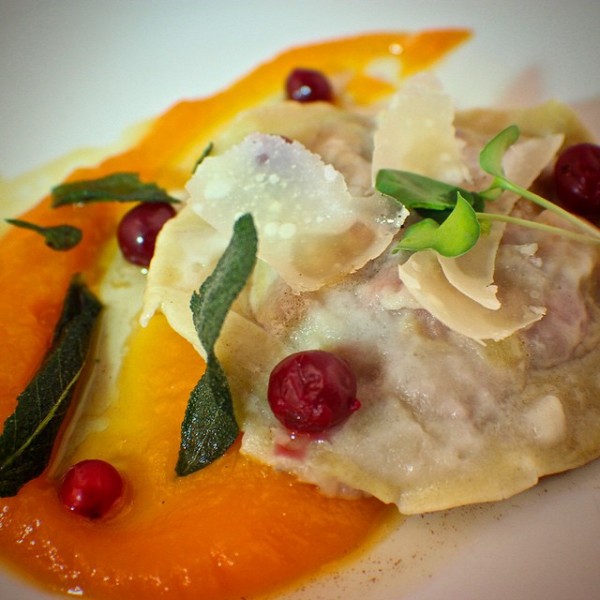 Butternut squash ravioli with sage and brown butter. Photo courtesy of Robin's Restaurant–Facebook.
Indigo Moon Cafe is another great choice for dog-friendly dining on their back patio. Indigo Moon has an excellent menu featuring fresh local ingredients. They are known for their extensive wine and cheese lists, and sell cheese from a deli counter during the day.
Dog-Friendly Things To Do:
Walk on Moonstone Beach
Moonstone Beach is a long, uncrowded stretch of beach, one of the prettiest on the Central Coast. The beach includes a one-mile coastal boardwalk, tide-pools, and wildlife spotting, and stunning views at any time of day. The beach is named for the tiny white translucent rocks that dot the shore, not to be confused with moonstone gems. Moonstone Beach is a great place to walk dogs, on-leash, because of the proximity to sensitive wildlife habitat.
Here are photos we took at sunrise…
Midday…
… and sunset.
Hiking Fiscalini Ranch Preserve
Fiscalini Ranch Preserve is a 430 acre protected zone on the Cambria coast. It offers habitat for many diverse wildlife species, from the coastal marshes to the adjacent pine forests. The views from the coastal bluffs over the ocean and the town of Cambria are breathtaking.
Dogs are allowed on-leash on the coastal bluff trail (above), and off-leash on the inland trails (below).
If you are looking for a place to stop and take in the view, the trails are dotted by beautifully hand-crafted benches made of windswept pieces of driftwood.
Local Pet Stores
Leave something at home, or want to buy your pup a treat? In Cambria, stop into Maddie Mae's Pet Pantry, a tiny downtown storefront packed with quality pet food and any kind of supply you could need.
Heading south to Morro Bay, stop into Lemos Feed & Pet Supply, for pet food and supplies.
Including dog cookies…
Beer Tasting?
Stop into Cambria Beer Company. Dogs are welcome in the downtown tasting room of this downtown craft brewery.
Wine Tasting?
Stop into Moonstone Winery. Dogs are welcome in their downtown tasting room of this local winemaker.
Cambria Dog Park
This large downtown dog park is a great place to let your dog run off some energy after a polite walk through downtown. The park is loving maintained by local volunteers and includes picnic benches with colorful potted plants and a barrel full of tennis balls for the ball-driven dogs out there.
North Point Beach, Morro Bay
This is my favorite Central Coast dog beach, offering off-leash access and stunning views of Morro Rock. I shared more photos in this post: A Perfect Beach on the Central Coast.
Elephant Seal spotting at Piedras Blancas
No drive up the Central Coast is complete without stopping to observe one of California's most interesting wildlife species. Elephant seals can weigh over 5,400 pounds and they are amazing sight, especially in winter when they come to shore by the thousands just north of San Simeon, CA to mate and give birth. On leash dogs are welcome on the coastal trail overlooking the elephant seals. Read more about elephant seals at this post: Where to See Elephant Seals in California.
Wild zebra spotting near Hearst Castle
In 1919, newspaper mogul William Randolph Hearst built an extravagent personal estate on the mountain ridge overlooking San Simeon, California. The property, Hearst Castle is now managed as a California State Park and it's one of the most popular tourist destinations on the California Coast.
In the 1930's, Hearst started to experience financial problems, and was forced to leave his palace behind. Maintanance workers on the estate released many of the animals from his private zoo, including wild species from around the world.
Seventy-five later, there is still a small colony of zebras that has gone wild and roam the hills below Hearst Castle. You can sometimes see them on the East side of the Highway 1 when driving north. Bring binoculars, they can be hard to spot. We spotted two of them grazing the field, first thing in the morning (at about 8:30am).
Note: Dogs are not allowed at Hearst Castle and the parking lot has full day sun exposure, so if you plan to visit Hearst Castle, arrange for a petsitter to care for your dog.
Shopping:
Many of the downtown shops invite dogs in while you browse. Both downtown Cambria and downtown Morro Bay offer lots of options. Some of my favorite downtown shopping options were GROW, an rare and unusual succulent shop in Cambria that has an indoor/outdoor design…
…and the vintage clothing shops in Downtown Morro Bay.
After our visit, vintage store Revolve, actually posted a cute picture of our two dogs to their Facebook Page. Fun!
For more dog-friendly road-trip ideas in California, check out my Dog-Friendly Guide to Mendocino and Dog-Friendly Guide to Carmel-by-the-Sea).
Thanks to the Highway 1 Discovery Route for helping us plan this dog friendly Central Coast roadtrip!