I vividly remember the first marine iguana we spotted in the Galapagos. We were on Santa Cruz Island, walking on the beach at Tortuga Bay.  He was a huge male sitting alone on an exposed lava rock above the beach.  Of the many amazing creatures I'd come so far to see, this one ranked probably just behind the Galapagos giant tortoises in terms of how excited I was to see them up close.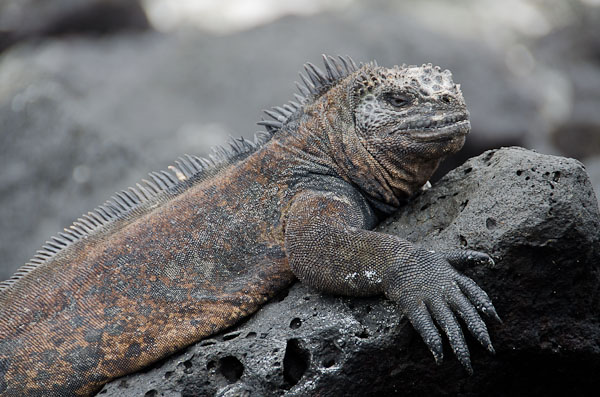 We spent probably 20 minutes sitting on this rock photographing this lone iguana from every conceivable angle until we finally followed him as he ventured out to sea for a meal.   (Also on the same rock, we spotted our first bright red, Sally Lightfoot Crabs, and this Galapagos reef octopus.)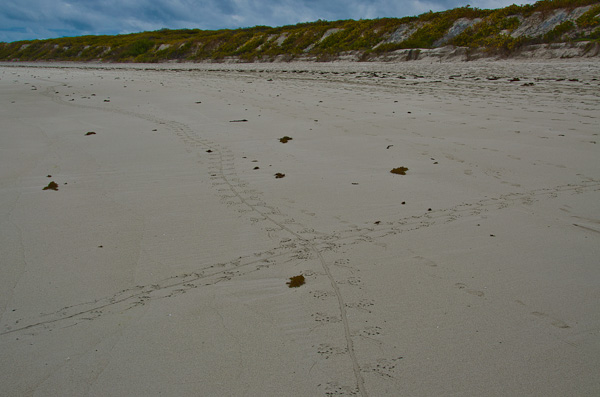 We took careful note of the trail he had blazed in the sand, and upon continuing our walk along the beach, we immediately noticed many more trails just like it, and we knew he was not alone.  Of course, about 100 meters down the beach, we found hundreds more, some warming themselves in the sun, others relaxing in the shade.  And like we would find with most animals living on the islands, none of the iguanas paid any attention to us as we walked by.
The Only Marine Iguanas on Earth
Perhaps the most rewarding aspects of a visit to the Galapagos are the many experiences you can have there and nowhere else.   By appearance, the marine iguanas don't differ much from their land cousins also living on the islands – they can even interbreed, still.  Scientists believe the two subspecies evolved from a single ancestor after arriving on the islands.  But these are only ones that swim.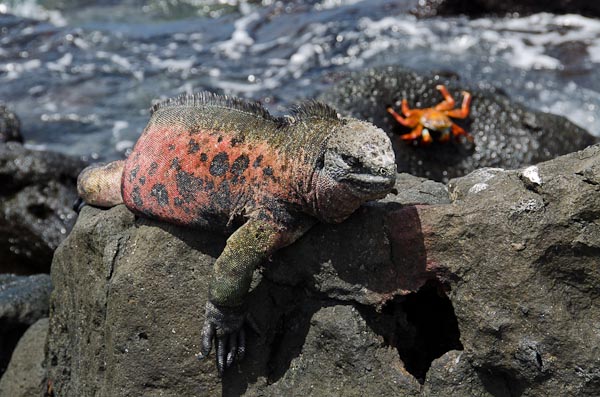 Most subspecies found in the Galapagos are black, but on Floreana and Espanola Islands, you can find brightly colored red and green iguanas. We saw the one above on Floreana Island.
Snorkeling Allows You To See Them Feeding Up Close
Marine iguanas swim not with webbed feet, but rather with a full body motion using their tail to propel through the water.  They dive to the bottom in order to feed on algae and seaweed.  While snorkeling, you can stay on the surface to watch them swim by, or you can swim out a little further and try to dive down to find them feeding on the algae-covered rocks below.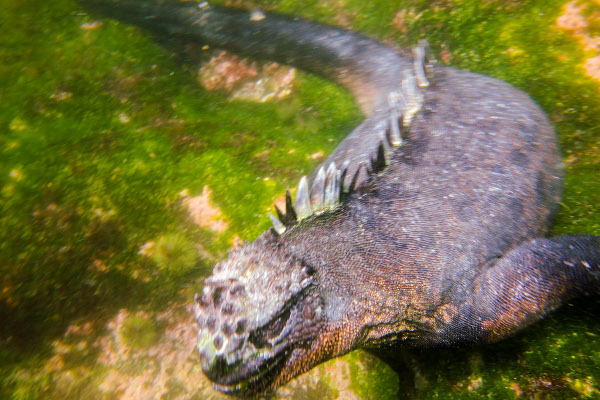 The Infrared Camera Tells Us Even More
If you're walking along the lava beds on a guided tour, you might see hundreds of iguanas lounging around on the black rocks and assume life is pretty easy for them.  Wouldn't we all like to lie motionless while basking in the warm, equatorial sun?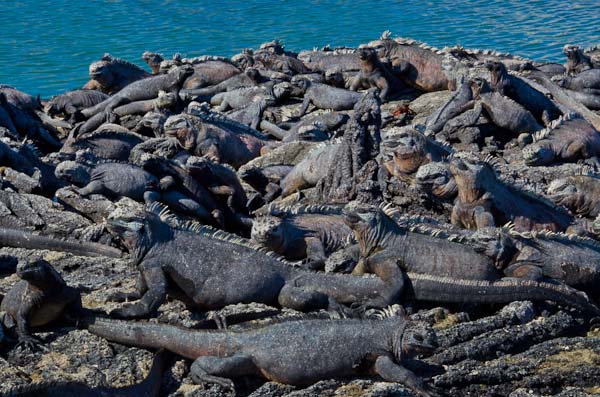 But as cold blooded animals, what could easily be mistaken for laziness is actually a fairly desperate struggle to maintain body heat, conserve energy, and finally eat just enough food along the ocean floor in order to survive.
Due to currents that swell up from the ocean depths and originate all the way in Antarctica, the water surrounding these islands for half the year is very cold.  However, since cold water can dissolve more carbon dioxide to support photosynthesis, these currents are the driving force of life in the Galapagos.  The larger males can dive deeper and longer before their body temperatures cool and they must return to land or perish.
In David Attenborough's Life In Cold Blood series, he used an infrared camera that gives a fascinating picture of how the Galapagos marine iguanas truly lives.  For me, even though I vaguely understood how the iguanas regulate heat in their bodies, seeing the video below brought that concept into crystal clear focus.  Attenborough has completely changed the way I view these amazing creatures: