We made an important omission last week when we reviewed our top food adventures of 2012. This is because 2012 was the year that Kevin built a kegerator!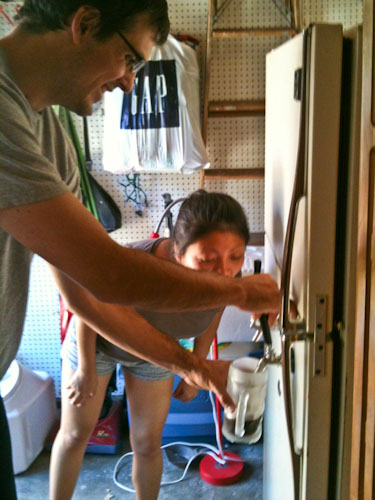 It's an old refrigerator he found on Craigslist that already had one tap installed, but he added two more, replaced the tubing, and improved the insulation. It was a difficult decision from an environmental standpoint, because we know that old refrigerators are very inefficient.  But we have solar electric at our house and we never use more than we produce, so we figure it will be a wash.
This is a huge advancement for him as a homebrewer because he can now skip the tedious bottling step, always his least favorite part of the beer brewing process. Not to mention we now have constant access to cold, home-brewed beer. And beer always tastes better from a tap!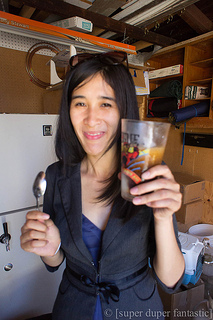 Also it opens us up to unique adventures like last summer's all-homemade beer float that we made with Kevin's chocolate stout and homemade vanilla bean ice cream.
We're planning to brew more beers than ever in 2013!
---
Beer float photo courtesy of our friend Suki (Super Duper Fantastic). Pardon our messy garage.