One thing that surprised me about Japan was how rural it is.
Almost 75% of the country's land is covered by mountains. Another 13% is devoted to agriculture. That doesn't leave much space for people, making their cities some of the most densely populated places in the world.
But this is a unique opportunity for visitors looking to get off the beaten path…
On a road trip?
There are many destinations along the coast and in the mountains that are best accessed by car. While we spent most of our time in the country zipping around on Japan's high-speed railways, we spent one day in the car touring the Shizuoka prefecture, a part agricultural/part coastal resort area at the base of Mount Fuji. We started at the Shizuoka City train station and met a driver who led us up the coast, past Mount Fuji, stopping at a popular mountain resort to visit a brewery, and ending at a coastal hot-springs resort. It was way more than we could have done by train. In Japan they do drive on the left side of the road, which may give pause to North Americans thinking of renting a car.
One of our goals was to photograph Mount Fuji, the highest mountain in Japan and a beloved symbol of the nation. This natural wonder is so important to the country that locals refer to the mountain as "Fuji-san," adding the suffix "-san" used in Japan as a term of respect.
One of the most famous views of the mountain is from the Miho Pine Forest, a coastal vista memorialized in works of art and literature for centuries. We headed out first thing in the morning to beat the crowds that come from the cities on buses at lunch time.
Along the coastal road we passed many greenhouses — the region is known for growing very sweet strawberries, spring onions, and honey. The early spring is actually strawberry season in the area, so we found the roads lined with colorful, red signs offering everything strawberry — strawberry picking, strawberry ice cream, and more.
My first rule for road trips is…
If you see a roadside fruit stand, you have to stop!
Next up was the Miho pine forest, Miho no Matsubara. One tree, called Hagoromo-no-Matsu, is believed to be about 650 years old. Legend goes that an angel flying over the forest was so overcome by the colors of the sand, the forest, and the sea that she removed her feathered robe and laid it over the tree while she went for a swim. A local fisherman found the robe and refused to give it back until she danced for him. She stayed in the sky, in this place, dancing forever.
Looking out through windswept trees toward the blue sea, I could see how she was overcome.
But the best was yet to come.
Once we reached the beach, we looked up to see our first glimpse of Mount Fuji… and what a view it was!
Mt. Fuji is an active volcano. She (as the pronoun goes) last erupted in 1707 and is called a "sleeping beauty." No one knows when she will erupt next.
We stood there for a few minutes admiring this national treasure and watching other travelers emerge from the trees and stop in their tracks.
We were worried we wouldn't see Fuji on our trip. Most of the week was overcast and the mountains were hidden by clouds. Our guide told us that we had the clearest skies she had ever seen over Mount Fuji. It was our lucky day.
On the way back to the car, I got a look at one of my own favorite Japanese treasures…
A Shiba Inu (Japanese dog)!
This one was a puppy, I judged from her refusal to walk properly on her leash.
I fell to my knees and she jumped into my lap, covering me with kisses.
I hate to admit this, but this was one of my favorite memories from the whole trip. I mean, puppy kisses? What can compete with that!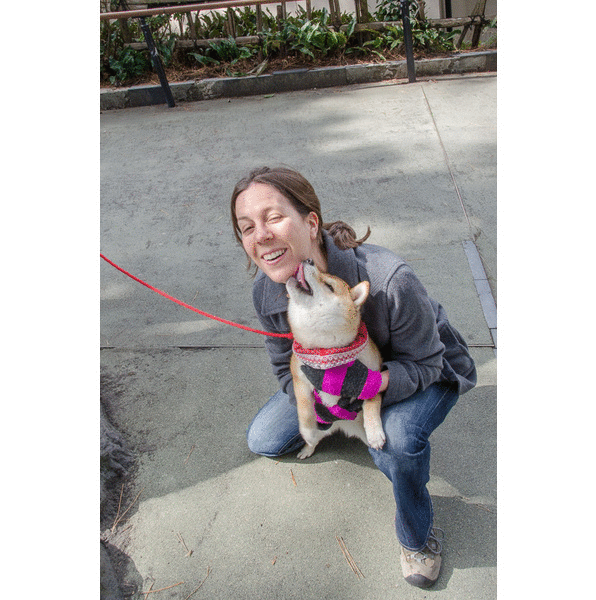 Slobbery, but invigorated, I returned to the car and we continued up the coast.  The views kept getting better…
As we entered the foothills, our guide insisted we stop at an upcoming service area.
I thought it was strange, we all had used the public restroom at the park before leaving the forest.
"This is a very nice service area," she said.
It turns out, she wanted us to see one more spectacular view of Fuji… the one from a big window in the Fujikawa Service Area's public bathroom.
The local community is very proud of this new public rest stop. It had a full-service grocery store featuring rows of Fuji-themed gifts…
A dozen outdoor food stalls, produce vendors (ike this one selling four varieties of local mandarin oranges)…
… and a cafe with floor to ceiling windows featuring this view.
This rest area highlights what I love most about Japan: The attention to detail and the desire to take something absolutely mundane (a highway rest stop!) and make it beautiful, local, and unique.
Like the beautifully wrapped strawberries, epic vistas from the road, and the slobbery puppy kisses, it was a day full of little things — and a road trip like no other.
PS–If you adore Shiba Inus like I do, check out my outlet for this canine obsession: My Pinterest board, Corgis, Shibas, and Huskies — Oh My! It's mostly shibas lately, thanks to the "doge meme".
---
Our Japan road trip was supported by the Japanese Ministry of Foreign Affairs. All opinions and photos are my own.