Remember that ridiculously cute Galapagos sea lion that we showed you yesterday? The one that swam with us, curiously flitting around over and under us while we explored the coast on a snorkeling trip? You know… this one: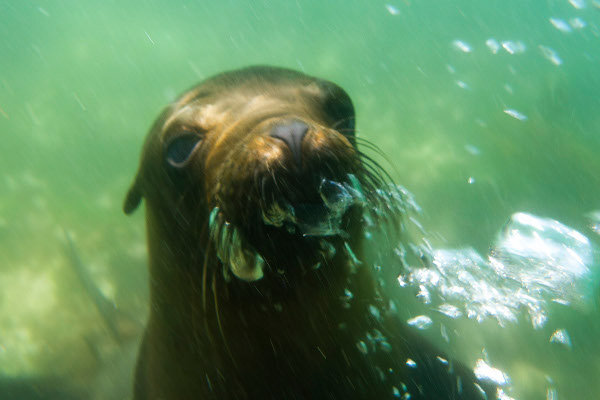 Well don't let Kevin's charming story and this adorable face fool you!
He tried to take off my hand!
Here's proof! Watch until the end:
See! He's a blood-thirsty, cold-blooded killer!
.
.
.
.
Okay, maybe I'm being a little dramatic.
Our guide had told us that Galapagos sea lions wouldn't hurt a person unless seriously provoked. They are carnivores, but they predominantly eat small fish like sardines. I'm guessing that this guy mistook the silver housing of the camera for a small, shiny fish.
I actually didn't realize at first that I could take video on the little Olympus underwater camera I had borrowed from my mother-in-law. I had a terrible time getting it to focus on anything because of the murky water and took about 100 mostly bad photos before realizing (while in the water) that it would do video. I'm much more happy with the videos than most of the photos I took.
Here's another fun video I took while swimming with a sea turtle! Sorry if the middle third makes you dizzy. I'm not a great swimmer, and on top of that had some bad luck with my snorkels and masks filling with water.  As a result, I spent most of the time in the water floundering around trying not to drown! The excitement of being so close to these beautiful creatures only exacerbated this:
So if you are planning any underwater snorkeling or diving excursions and are taking a digital camera, see if your camera will take video and try that instead. It's a lot easier than capturing still photos and is a great way to bring home the experience of being underwater–sea lion bites and desperate gasps for air included!