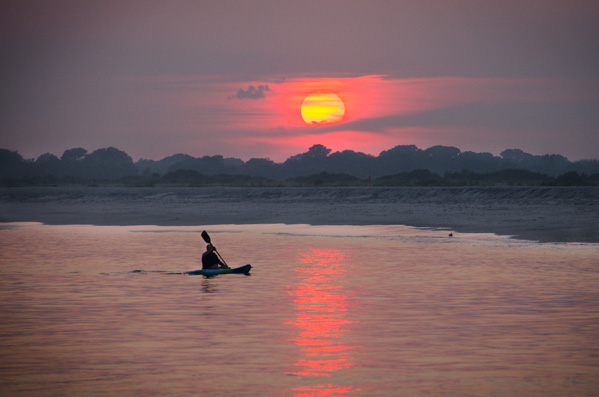 Cape May, NJ is a nice enough town. It is filled with palatial Victorian resort homes turned B+B's, a historic downtown, and a narrow boardwalk with the beach side of the street, mostly undeveloped — except for a few quirky old shops and arcades. The whole thing  frames long expanses of wide,well-manicured beaches. It was America's first vacation resort town and remains a popular spot for East Coast weekend getaways. My newlywed sister and her husband from southeastern Pennsylvania love it, and it's why they chose the town for their getaway wedding last week.
But there were a lot of people! Throngs of beachgoers in the summer annoy me. The heat was intense — near or over 100 degrees each day. Plus, I'd had an exhausting 16-hour travel adventure to get there — first, flying from all day from California to Pittsburgh, PA (with a flight transfer), meeting my mom, and THEN driving an exhausting 9 hours through traffic to this surprisingly hard to reach spot on the Southern Jersey shore.
So, the timing and conditions of the trip were stacked against me falling in love.
Still, I managed to find and appreciate the important things.Like:
The ice cream. Stands serving thick, creamy custard and a Philadelphia favorite, 'water ice' were on nearly every block.
Rare (and never enough) time to spend with my family. And,
The sunsets. This one facing the protected bird habitat south of town was a gem.
---
Foto Friday is a series where I go back through my archives to share photos that I love either because I think they are beautiful or they have an interesting story. I hope you enjoy them as much as I do!