Within an hour of passing through Japanese customs, I was throwing up in the back of our Tokyo-bound taxi. The interpreter tasked with showing us around Japan for the next week looked worried.
This was not the first impression I wanted to make.
I attribute my sudden illness primarily to the stop-and-go, rush-hour traffic, but also to a little case of the nerves.
Lights, crowds, and dizzying movement define Tokyo. Nearly 34 million people live within commuting distance of the city, and it sometimes feels like they are all out on the street with you. Tokyo runs like a machine, and if you don't know where you fit in and where you are going, you risk feeling overwhelmed and, yes, lost in translation. Visiting Japan and its vibrant capital city was a lifelong dream and I wanted to "do it right".
After my initial bout of anxiety, I discovered that Tokyo is an easy city to explore. The city is surprisingly quiet, clean, orderly, and filled with beauty and simple adventures. There are a lot of wonderful things to do in Tokyo for any kind of traveler.
Here are ten ways to experience the best of Tokyo:
1. Get high — for perspective
This is the something I try to do everywhere I go, but in sprawling cities like Tokyo it's especially useful to take to the sky to make sense of the city's geography. Past the expanse of high rises, you'll see the Port of Tokyo, the Arakawa and Sumida Rivers, Odaiba Island, the Imperial Palace, and the green leafy grounds of dozens of shrines and temples.
Tokyo SkyTree, Tokyo Tower, and Tokyo City Hall have three of the best views over Tokyo. I took this picture below from the observation deck at Tokyo Tower. We decided against going up the 200m taller Tokyo Skytree because it was overcast that day and we figured the view would be obscured by the clouds.

2. Visit a Buddhist Temple AND a Shinto Shrine…
Shintoism and Buddhism exist side by side in Japan, and the practices of both faiths are deeply engrained in Japanese culture. Regardless of what religion a person follows, they may also practice both Shinto and Buddhist spiritual customs and traditions.
Shrines are places of worship for the Shinto faith while temples are for the followers of Buddhism. Locals visit Shinto Shrines to pray for good fortune on special occasions, and they visit Buddhist Temples to remember their ancestors. There are over 100 shrines and temples in Tokyo alone, so you can't miss stopping in to appreciate these important cultural institutions.
How can you tell whether a religious structure is a shrine or a temple? One way is by looking at the ornamentation. Shinto shrines always have large sweeping gates (called torii) at the entrance to the property marking the entrance to sacred space. This one is at the Hie Shrine in the Chiyoda area of Tokyo.
Buddhist Temples, however, often have a pagoda structure on the site, like this one at the oldest temple in Tokyo, Senso-ji, in Asakusa.
3. Learn about the History of Modern Japan at the Edo-Tokyo Museum
There is probably no part of Japanese history more influential to the modern culture and state than the Edo Period (1603-1867). Edo was the original name of the City of Tokyo, and the Edo Period was when the national capital moved to Tokyo. This period was characterized by internal peace and stability, economic growth, and isolationist foreign policies — for these 265 years Japan was entirely focused on developing themselves as a country and a culture.
The Edo-Tokyo museum shares the history of Japan and Tokyo since the Edo Period. You can learn about life in feudal Japan, urban history and architecture, and the origin of traditional Japanese arts like woodblock printing, weaving, poetry, music, and kabuki theater.

4. Explore homegrown Japanese arts
Whatever your interest, get to know one of the traditional Japanese art forms. We chose to go to the historic Kabuki-za theater in Ginza, for a kabuki theater performance because it included music, dance, dramatic costuming, makeup, and acting and stories that take place during the Edo period. Typically, one act is a dramatic story of commoners, the second a story of upper-class culture, and third, music and dance.
Rent a headset for the English language translation. The performances often last more than four hours, so pack a dinner to eat during one of the intermissions.
If four hours is too long for you, you can often buy same-day tickets for a single act at the theater box office.
(Obviously, I couldn't take photos in the theater, so the one below one is a model of a Kabuki actor that I spotted at the Edo-Tokyo museum)
5. Explore Japanese anime and cute (kawaii) culture
Tokyo is the epicenter of cute and cool pop culture in Japan. Kawaii is a word that refers to the culture of friendly, non-threatening "cuteness" which is very important in Japan, and explains the popularity of animated characters, like Pokemon, Hello Kitty and the colorful cartoon mascots that adorn everything from soda bottles to government buildings and monuments.
We stopped at Odaiba's Diver City Mall to visit Gundam Cafe, a coffee shop dedicated to fans of the popular animated TV Show, "Mobile Suit Gundam". The cafe sells all kinds of souvenirs, video games, comic books, and, of course, coffee art and sweet treats in the shape of your favorite characters.
6. Go shopping
While I'm normally not much of a shopper, strolling Tokyo's commercial districts could be a trip in itself. There are many quirky and beautiful things for sale in Tokyo stores that are unique to Japan. Some of the major commercial areas are Ginza (upscale shopping/department stores/specialty food), Asakusa (souvenir shops), Akihabara (electronics/anime), Shibuya (teen clothing/cosmetics/music).
I seriously considered buying my dog a kimono when I saw this one in Asakasa.
7. Visit Tsukiji fish market
I noted before that visiting the Tsukiji fish market and tuna auction is an interesting experience and a look at how important the seafood industry is to Japan. The surrounding sushi vendors in stalls near the market offer up the freshest sushi you'll ever have.
8. Ride the subway
Before our trip, I saw a photo of the Tokyo Metro map (shown below) and it scared the bejesus out me. It turned out the system isn't that difficult to use. Right next to this map there was a text-based table posted that had the destinations written out in English/Latin alphabet. On the platform and inside the cars the stops were written in both Japanese script and English, and electronic monitors inside and outside of the cars display the line's final destination and the next stop.
I followed along the route using the Tokyo Metro map in my iPhone app called AllSubway.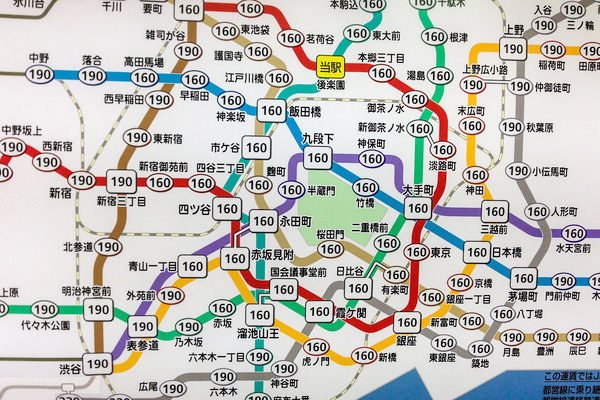 9. Get to know your neighborhood
It would take a lifetime to explore all of this megalopolis so if you have limited time in Tokyo, don't waste it traveling all across the city to check items off of very specific must-see list (I was purposefully vague in most items on this list). Instead, try to focus your time by getting to know the neighborhood you are staying in. It will likely have most of the food, shopping, and sightseeing experiences you need. This is most important in the case of restaurants–the city is full of world-class food!
One of the foodie things we wanted to experience in Tokyo was find a really good ramen noodle shop. Instead of spending an entire day following the "best of Tokyo" recommendations and TripAdvisor lists online, we spent the evenings exploring the commercial district near our hotel looking for tiny noodle shops with no English-language menu and counters lined with Japanese workers slurping up soup. Though we were in an area next to bland corporate office parks that is never listed as a must-visit region of the city (Akasaka), we were not disappointed. The photo at the top of this post is from that very typical local district.
Also, I spent one morning exploring the neighborhood and came across the Hie Shrine, one that's rarely listed on tourist maps. It's just as beautiful as the more popular shrines but without the crowds. And I had the place all to myself for photos like this:
10. Eat courageously
Tokyo is home to some of the best food in the world and it's no place to be a picky eater. Observe any moral obligations, but beyond that, be open-minded. In shops and stores, if some illegible food label looks interesting–buy it, eat it, and ask questions later. In restaurants, ask for recommendations — staff take great pride in their job and the server will always suggest something delicious.
For more observations on food and dining culture in Japan, check out this post: 21 Things You Should Know About Japanese Food.
Tokyo Travel Resources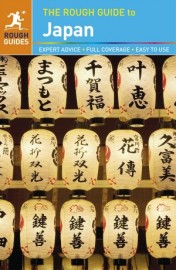 Want to save this list of things to do in Tokyo? Click here to pin it on Pinterest:
This trip to Japan was supported by the Japanese Ministry of Foreign Affairs. All thoughts and photos are my own.
---
Have you been to Tokyo? What are your favorite things to do in Tokyo?