This is a guest post written by Eileen Johnson.
I am addicted to whale watching–I went out on NINE different whale watch tours on the Monterey Bay last summer. Understandably, I was excited to book our January trip to Maui during peak season for humpback whales.  Scientists don't know exactly how many whales migrate each winter from Alaska to Maui, but they estimate somewhere between 1,500 and 3,000 whales make the long trip. Humpback whales travel to Maui to give birth and breed in the warm water between the Hawaiian islands.  The first whales arrive in November and some stay until May. If you are interested in seeing these amazing animals on your Hawaii vacation, peak whale watching season is Maui is January to March.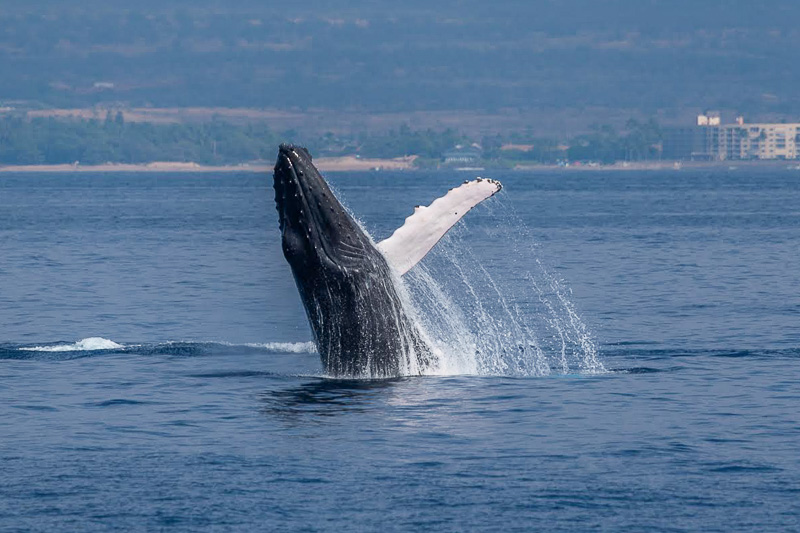 I spent my birthday whale watching on the Pride of Maui. We boarded the large, comfortable boat at the Maalaea Harbor and knew it would be a special trip. I loved the size of this boat.  There was ample space for everyone to be at the railing on the side where the activity was.  There was no need to view from behind multiple rows of guests!  The crew was super special, helping everyone on board with all their needs.  The captain regularly announced what we were seeing and positioned the boat to optimize viewing. During the 2 and a half hour cruise we were treated to a BBQ lunch, unlimited mai tais, and white chocolate chip macadamia nut cookies!
Since whales are wild animals, seeing specific behaviors can't be guaranteed. Whale watching boats  often give a guarantee for sightings–if there are no whale sightings, then you get a free trip. If seeing whales is a priority, book your tour early in your vacation so that you can go on another trip in the unlikely event you don't see whales (Note: Kevin learned this lesson once in Alaska). The day we went on the Pride of Maui trip, we were surrounded by many, many whales on our trip, but the breaches and pectoral fin slapping behaviors were off in the distance.
Here is some of the beautiful scenery we saw on our Pride of Maui tour:
And here are the behaviors we spotted while whale watching in Maui–note, images are from three different trips.
A breaching adult–note how close we were to shore!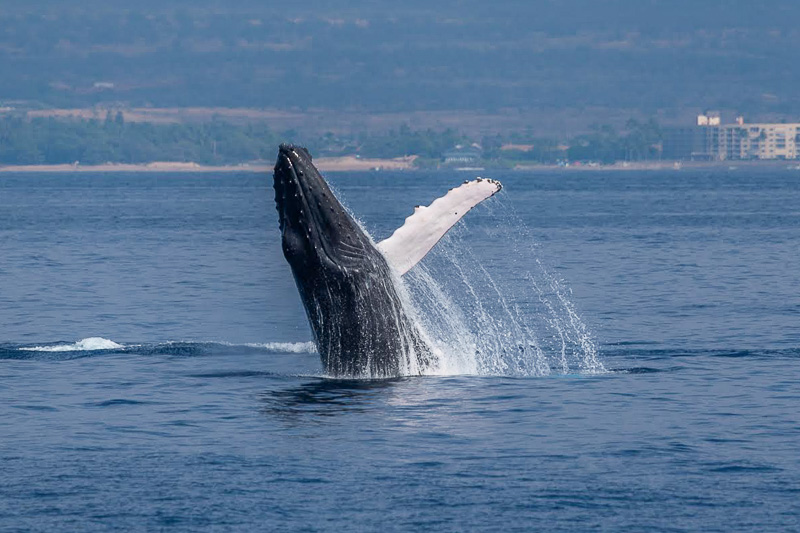 Breaching calf–you can tell this little one if young because there are no barnacles attached to her body, like on the bigger adults!
This is called a "peduncle throw", it's an aggressive breeding season move where the lower 1/3 of body is thrust out of water
A competition pod, slapping their pectoral fins against the surface to win female attention.
The fluke of a diving whale and the pectoral fin of a second whale!
A diving whale's fluke and a second whale's exhalation
The author was hosted by Pride of Maui for the purpose of review. Opinions and photos are her own.
Eileen Johnson is an avid landscape and nature photographer from Northern California–and Kevin's mom! You can see more of her photographs on Instagram.