During my week in Loreto, Mexico, I stayed in two different hotels, both of which make a great base for exploring the natural wonders and living history of the area. One was a conveniently located downtown hotel for travelers on a budget, and the other a more remote, coastal resort for those looking for a relaxing getaway.
---
Villa del Palmar at the Islands of Loreto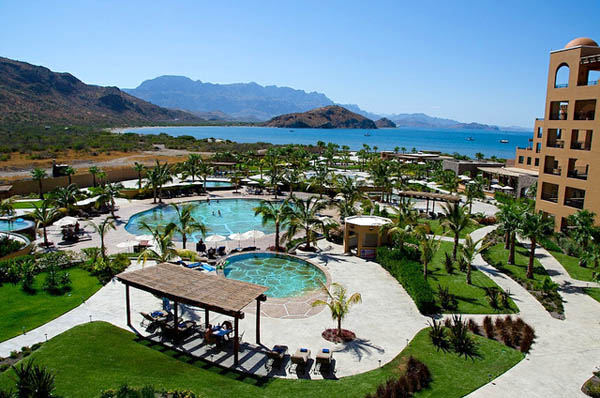 Villa del Palmar is a secluded coastal resort, about 30 minutes south of Loreto. The hotel is situated on 3,600 acres of desert and coastal property, facing the Gulf of California's Danzante Bay.
I joked when I checked in, but I just looked at Zillow to confirm it: The one bedroom suite I stayed in at Villa del Palmar is bigger than my house!
At a whopping 1,300 square feet, my suite had two full bathrooms, dual bathroom sinks, a deep whirlpool bath tub, a fully equipped kitchen with full size refrigerator and dishwasher, a washing machine, a living room with pull out couch, a dining area, and two large screen TV's.
The four pools were designed to look like sea turtle shells, and were the prettiest I've ever seen.
A closeup of the tilework shows how amazingly detailed and colorful the shading was. I spent every spare minute I had in these pools.

Just beyond the pools was a beach on the secluded Danzante Bay. Kayaks, stand-up paddleboards, and snorkeling equipment is available for guests to use.
Free shuttles to downtown Loreto run a few times a day, but the last one comes back to the hotel at 9pm. Still, the hotel plans nightly activities onsite for those looking for entertainment. One night a week, the event is a party at the beach. With free food, drinks and music, it's a great way to enjoy a warm, Baja California evening.
Danzante Restaurant is the nicest of the three on-site restaurants. The restaurant serves contemporary global cuisine including modern takes on traditional Mexican dishes. This tortilla soup, poured over a bed of crispy tortilla strips, avocado, and chile was simply beautiful. All of the dishes were creatively prepared and delicious.
For visitors not on an inclusive package, there is an onsite minimarket where you can buy the basics to make meals in your kitchen. For more selection, you can take the daytime shuttles to downtown Loreto to shop in one of the local grocery stores.
Because the resort is on an otherwise undeveloped stretch of coast, the views of the stars at night were amazing. I took this photo on my room's balcony…
And this one between my building and the next.
Price: Studio rooms start at $150 USD and 1 bedroom/2 bath suites (as described above) start at $250. All inclusive packages are available for an extra nightly fee.
Though the studio rooms would be better for solo travelers and couples doing the inclusive package (who need less room to cook), the spacious suites with full kitchen would be perfect for couples and families planning to prepare most of their own meals.
---
Hotel Santa Fe
Located right on the traffic circle at the entrance to Downtown Loreto, Hotel Santa Fe is conveniently located for solo travelers. I stayed there for two nights after my group trip ended when I needed a quiet place to do work and explore the town.
Hotel Santa Fe is right next to the regional bus station, local-serving grocery stores, shops, restaurants and taco stands. The regional baseball park is right next door and has games many nights. Hotel Santa Fe is a little far (20 minute walk) from the Loreto coast, but the downtown coast is not that impressive. For an attractive beach, you're better of taking the daily shuttles to Villa Del Palmar, a $20 taxi ride to nearby Nopoló, or a tour that goes to the Islands.
The rooms are simple and very clean, with newly remodeled bathrooms, fully stocked kitchens, and a comfortable bed. It had everything I needed to make breakfast and simple meals
The inner courtyard with hot tub and swimming pool are gorgeous places to relax on a lounge chair day or night.
Price: Studio rooms start at $70 USD. It's a conveniently located and affordable place for solo travelers and independent travelers. Hotel Santa Fe is the sister property of Villa del Palmar (owned by the Villa Group) and provides  long-term housing for some of the resort staff and their families. For that reason, it's a much more authentic living experience and would be a great base for a long-term stay. Also, being right next to the bus station it's a convenient jumping off point for travelers heading to other parts of Baja.
On this trip I was a guest of Villa del Palmar at the Islands of Loreto and their sister property Hotel Santa Fe. Opinions are, of course, my own.