When I was a kid, I remember seeing black-and-white textbook photos and grainy nature documentaries about Easter Island.  The most remote inhabited island in the world, Easter Island has a barren, volcanic landscape and is dotted with gigantic stone heads (called moai). Researchers still do not know how the native people were able to move these giant figures, some weighing more than 80 tons. It seemed as mysterious as any place in the world, and I never thought it would be a place I'd get to visit.
When it came up as a possibility to include a stop there on a recent trip to South America, I started to do some research. I read it was a very expensive place to visit, but knew it would be a once-in-a-lifetime experience so we decided to take the plunge. We found a variety of ways to save money, and decided to share our best Easter Island travel tips to help you plan your trip.
Transportation
Flights/Fees:
The only airline that flies to Easter Island is LAN Chile. If you are departing from North America for your Easter Island travel, you can transfer to a direct flight from either Santiago, Chile or Lima, Peru. Flights to Easter Island from North America can be very expensive, so look for periodic sale prices.  We got our ticket by opening travel-credit cards and redeeming the sign-up bonus points for our flight, saving us over a thousand dollars.
Many travelers include Easter Island as a stop on a Round-the-World (RTW) ticket so they don't have to pay the high cost as an individual expense.
Hiking: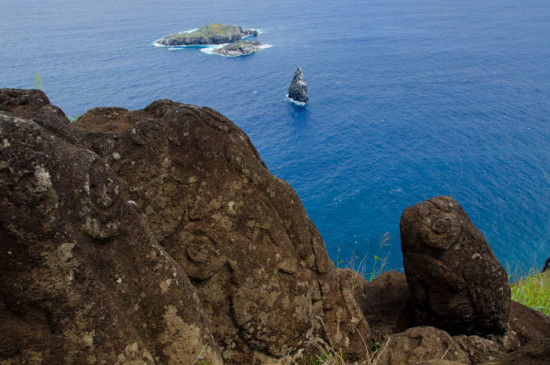 Petroglyphs at the Orongo Ruins.
Easter Island is very small (63 square miles), so it's a great place to explore on foot.  If you're able to hike 5-8 miles round trip, you can do day hikes to see many of the moai, lava tubes, and one of the top sites, the Orongo ruins.  Bring plenty of water and snacks, because once you leave the main town of Hanga Roa, there are almost no places to buy water or food.
Wild guava trees line both sides of many trails and roads around the island, so take advantage of the delicious (and free!) fruit and as you hike.
Jeep Rental:
Because of the rocky, volcanic roads outside of the main town of Hanga Roa, most vehicles on the island are 4-wheel drive jeeps. Many accommodations will rent out jeeps on a daily basis at a lower rate than local car rental companies, about $60. To save even more, find other travelers willing to split the cost of the jeep rental with you.  We joined with two British girls we met while hiking to rent a jeep for one day, touring the island for under $15 per person.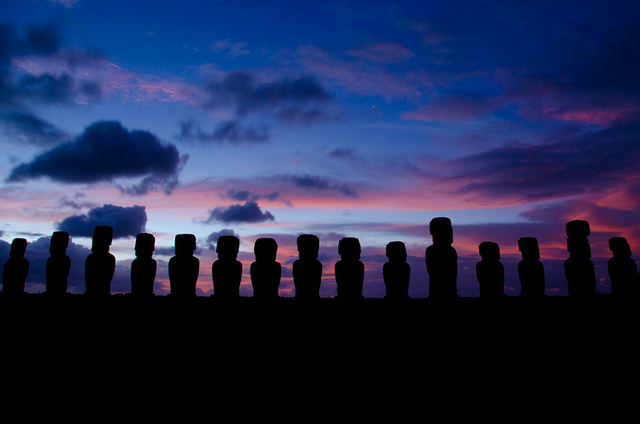 Sunrise at Ahu Tongariki
Because you can hike to so many places, we only chose to rent a vehicle for one day. Our recommended itinerary for a one-day car rental would start with photos at sunrise of Ahu Tongariki, an early morning viewing of Rano Raraku (getting there when the park opens to beat the crowds) and then relaxing at Anakena Beach in the afternoon.  The distances between these sites are short so you can take your time at each stop and still see everything.
Lodging: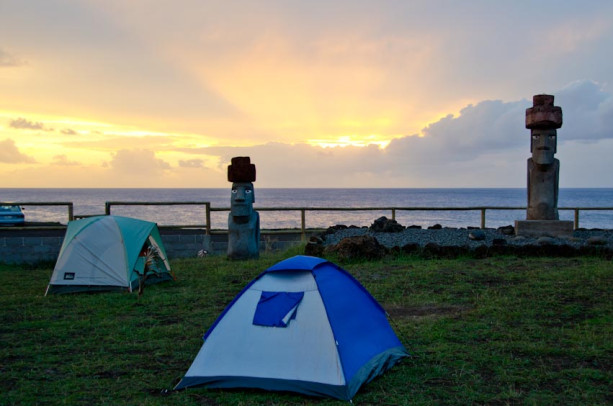 Camping: The cheapest paid option for lodging is to camp at Camping Mihinoa. At only $14 per person, these ocean-front camp sites are the best value on the island. A double room at the luxury hotel right next door costs over $1,000 per night!
For this ridiculously low rate, Camping Mihinoa provides all of your equipment (tent, sleeping pad, sleeping bags, and dishes/cutlery) and gives you access to a bathroom and shower facility.  This is an easy option, even if you're not a very experienced camper–they even pitch the tent for you before you arrive! The main office building has wi-fi access, available for $5 for the duration of your stay.
Hostels/Guest Houses: There are a handful of hostels and budget guest houses on the island. Vainny Guest House and Hosteling International–Kona Tau were two recommended to us by other travelers we met.
Couchsurfing: Though it is a small island, we met one traveler who found a place to stay via the Couchsurfing community. She stayed as guest of a Chilean (wave) surfer on an inflatable mattress in his studio apartment.
Food:
Since nearly all of the food comes from off the island, restaurant dining could be a major Easter Island travel expense! While trying to get our bearings after just arriving on the island, we had our first meal on a cafe overlooking the harbor. Two grilled cheese sandwiches and two cups of coffee cost us $30!
While we are generally willing to spend any amount of money to experience the local food culture of a place, Easter Island was an exception.  Food there is not terribly different from that of mainland Chile, so we decided to cook most of our own meals in Camping Mihinoa's guest kitchen.  There are several small markets on the island, but no large supermarkets. Some travelers (and most locals, when they visit) stock up on groceries on mainland Chile and bring them with them on the plane.
For cheap food on the go, look for empanada stands. We found one very cheap storefront stall near the intersection of Avenida Pont and Policarpo Toro. They offered freshly baked, locally-caught tuna and (for vegetarians) spinach and cheese empanadas.
Bottled water on the island is particularly expensive. Even though the island is so remote, water is safe to drink so you can save a lot by drinking tap water. If you don't like the taste, you can purchase a powdered, sweetened drink mix to add to it.
Activities: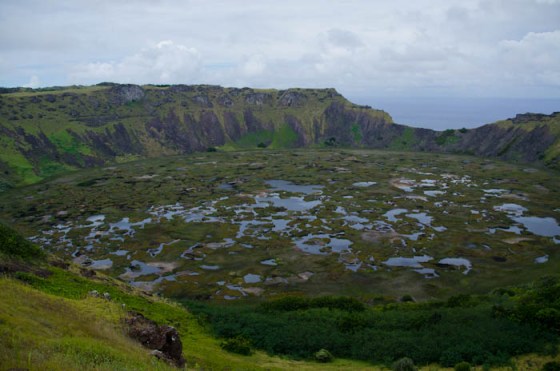 Archaeological Sites: It's free to visit all the moai and archaeological sites on the island except for Orongo (the site of the Bird Man Festival) and Rano Raraku (the rock quarry where nearly all the moai were carved).  A pass to visit both sites costs about $60 per person. The pass allows you to visit each site only once, so make sure you allow yourself enough time to take them in. The two sites can be visited on separate days.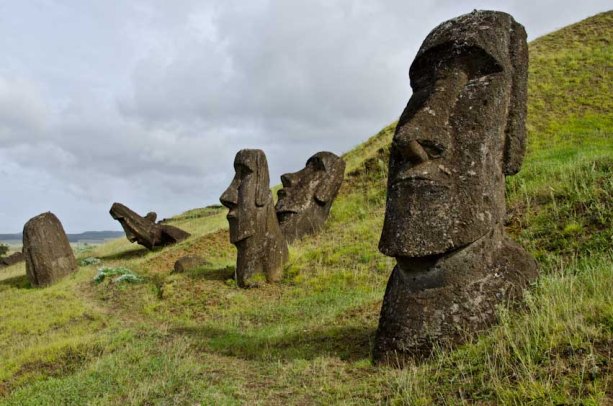 Rano Raraku, the stone quarry where all the moai originated.
You can save $10 per ticket by buying this pass at the airport upon arrival, at a stand right before you pass through customs. They only take cash, so you need to bring enough Chilean currency with you when you land–there is no ATM on that side of the airport.
Museum: There is a very small anthropology museum, a short walk from downtown Hanga Roa. It's a single room, but offers lots of information and artifacts on island history. All signs are in Spanish but they have a printed English language literature for you to use as a guide. Admission is $2.
Beaches: While no one goes to this South Pacific island just for the beaches, there are two beaches of merit on the East Side of the island. Anakena Beach may be one of the most impressive beaches in the world as it is flanked by Ahu Akivi, which features seven moai. Nearby Ovahe Beach doesn't have any visible moai, but it's an equally beautiful coastline, and is generally less crowded.
Connecting With Locals:
The island, the indigenous people, and the language they speak all share the Rapa Nui name. Many speak the Rapa Nui language, though the primary language (at least for the younger people) is Spanish. If you are there on a Sunday, visit the Catholic Church in Hanga Roa for mass, as the choir sings in the native Rapa Nui language.
If you speak even broken Spanish, don't be afraid to talk with the locals and learn more about the island and the Rapa Nui culture. During one hike, we got lost (after trying to find a "shortcut" to the sea), and ran into a group of Rapa Nui guys who were taking a break after their day's work.  They shared beers and snacks with us, as well as stories about their home. It was a great experience, and we wound up seeing our new friends several more times during our stay… the island is that small!
For more photos and our full Easter Island itinerary, click here. 
This post was originally published in 2012 on the now defunct website, Budget Travel Adventures. This post was last updated in July 2015.
---
Have you visited Easter Island? What are your best Easter Island travel tips?