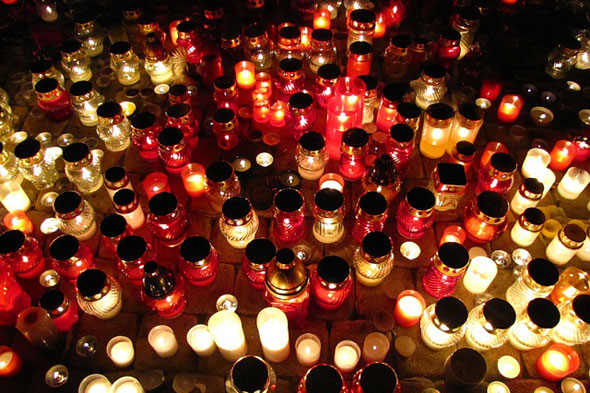 This morning, I flipped on the radio while I was making breakfast. Our local NPR station was in the midst of a segment about the Day of the Dead, or "Dia de Los Muertos," a holiday celebrated across Latin America each year on November 2.
By the name and proximity to Halloween, you might think the the Day of the Dead is dark or morbid, but I've always thought it was beautiful. It's essentially Memorial Day, a day when families take time out to remember friends and loved ones who have passed away. As you might expect, these memorials often include visits to the cemetary, but many Latino families also create a beautiful altar with photos, candles, and memorabilia that pays tribute to their loved one's lives. Two years ago, I was traveling in South America and shared this post about how the Day of the Dead is celebrated in Ecuador.
But back to this morning. The commentator on the radio show was a Mexican-American music writer. She shared her personal tradition of creating a "sonic altar," a list of songs dedicated to people that have died over the past year. She said that like physical alters, this "tributory playlist" was a powerful way to honor someone's memory.
My mind immediately went to the Beatles. Kevin's dad loved the Beatles.
We lost him rather unexpectedly this past May. The days after we got the news were difficult for all of us, but especially Kevin and his brothers. One of the things I volunteered to help them with was organizing the music for the wake.
I emailed back and forth with the boys to come up with a list of songs, then I dug through our old CDs and downloaded tracks from Spotify until I was confident we had put together a mix of music that honored Bill and his life. Listening to these songs at first was hard, but by the time I set up my laptop at the funeral home and hit "play," I could almost smile, knowing how much he loved each and every song.
So this morning when I heard the phrase "sonic altar," I knew that was exactly what we had made.
---
On this Dia de Los Muertos, here's one of those songs. We miss you, Bill.
Do you have a song that that makes you remember someone you've loved? Share the link here!