One of my favorite things to do in a new city is to visit local food markets and Nishiki Market in Kyoto, Japan was top of my Kyoto travel wish list.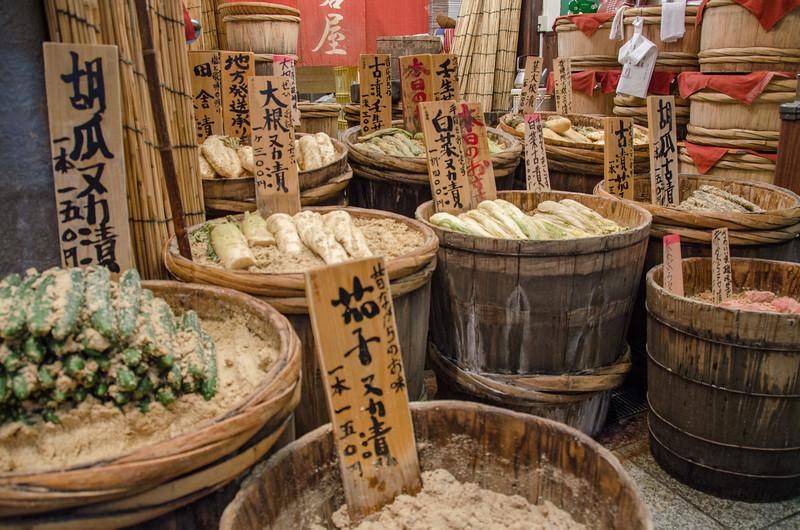 Food is serious business in Japan; traditional Japanese cooking, or washoku, is so important to the culture that it was recently placed on UNESCO's Intangible Cultural Heritage list. The City of Kyoto considers their local cuisine among the best in the country. One of the most important national food traditions, kaiseki, an artfully prepared multi-course meal service derived from the Japanese tea ceremony, was born in Kyoto. Seasonality, or shun, is the most important element in Japanese cooking and guides every element of traditional cuisine from ingredient selection to plating, tableware, and decoration. Nishiki Market is often called "Kyoto's kitchen" because the city's top chefs and home cooks go there for best local ingredients and seasonal culinary items.
We made a quick walk through Nishiki Market back in 2012, and when we returned to Kyoto this year we wanted to spend more time and learn more about exactly what we were seeing. We signed up for a guided Nishiki Market tour hosted by a company we love and have written about before, Context Travel. We were a small group,  just Kevin, me, and a couple from North Carolina. Our guide for the day was Alex Bazes, a New Yorker who came to Kyoto to study abroad when he was in college and never looked back. He was drawn to the traditional Japanese art of knifemaking and today he's a professional bladesmith, apprenticing under one of Kyoto's master craftsman. You can check out some of his beautiful creations on Instagram, @BazesBlades.
Nishiki Market Then, and Now
Nishiki Market is one of the oldest operating food markets in Japan–the earliest shop set up on this site more than 700 years ago! The market was built around a natural spring; fish vendors used the cool water to preserve their catch, important in the centuries before refrigeration. We started our tour on the east end of the market at Nishiki Tenmagu, a Shinto shrine built to honor that natural spring with a number of smaller altars including a bronze cow–rubbing its head is said to bring good luck, especially for students.
Today Nishiki Market has 150 shops stretching five blocks through Northern Kyoto in an enclosed arcade. The vendors sell every culinary item you can imagine: fish, vegetables, tofu, pickles, dry goods, spices, seaweed, sweets, cookware, pottery, knives, and, for some inexplicable reason, shoes. (Why are there so many shoe vendors?) Many of the shops have been owned by the same family for more than a dozen generations.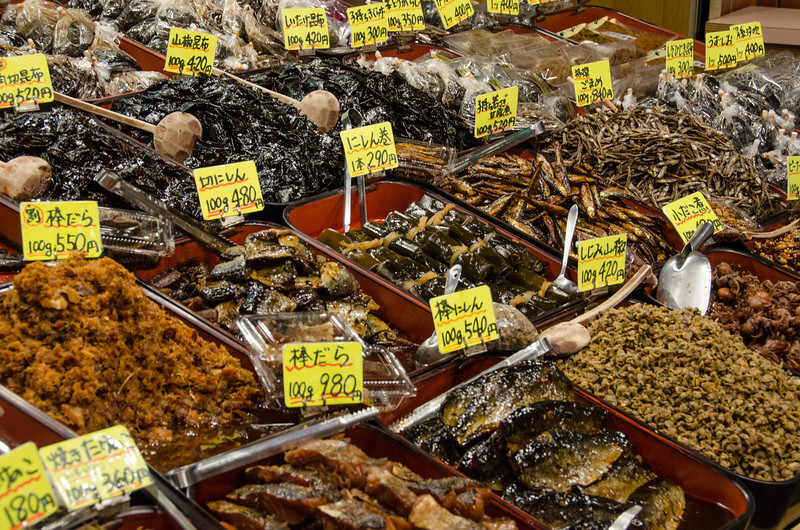 One of my favorite shops was Aritsugu, the oldest knifemaker in Japan where master craftsmen have been making and selling knives for more than 400 years. You might think a knife is a knife–I did–but pro-knifemaker Alex explained that the shape and cut of the blade affects the flavor and texture of the food. In Kyoto, where food is art, chefs use different knives for every ingredient and every preparation. As an example, he pointed out a display case with three different knives designed just for cutting eels in different ways.
Three eel knives!
(I couldn't find a photo of the knife store in Kyoto, so this was one I shot at a craftsman's shop in Tokyo. The knives at Aritsugu were just as pretty).
The best part any visit to Nishiki Market is the chance to try all the foods.  Some vendors give samples for free or a few dollars (few hundred yen), depending on the item. One of the nice things about our Context Travel tour was that Alex was given a budget for tastings out of the tour fee so we didn't have to put up any extra cash to sample things.
Here are some of the things that we saw and tried. Starting with things on a stick…
Grilled fish on a stick…
Satsumaage, fried fishcake on a stick…
Takotomago, baby octopus stuffed with a boiled quail egg… on a stick.
Tuna sashimi on a stick…
Azasuke, lightly pickled cucumber on a stick…
Barbecued quail. No stick needed…
Breaded and deep fried chocolate balls…
Homemade sesame ice cream with ground sesame seeds on top…
Black sesame and matcha (green tea) covered peanuts…
Dried black soybeans that you infuse in hot water like a tea (kuromame cha)…
Pickled vegetables. Kyoto chefs especially prize a selection of local vegetables that are unique to Kyoto.
Dried bonito flakes, frequently used to make dashi broth, an important and (for vegetarians, hard to avoid) ingredient in Japanese cooking.
Fake plastic food keychains, a popular Nishiki Market souvenir…
After our visit to the market, we ended our day with a visit to a lunch spot that prepares traditional Kyoto cuisine. As a vegetarian, I ordered the yuba, tofu skin platter (and gave my sashimi to Kevin). Yuba is a very typical Kyoto ingredient.
Kevin ordered the sashimi plate.
How to Get to Nishiki Market
The market stretches two blocks of a pedestrian-only street bordered on the west by Takakura­-dori and on the east by Teramachi­-dori. From Kyoto Station, catch the Karasuma Subway line and get off at Shijo station. From Shijo station it is a quick walk to the Takakura-dori market entrance.
Nishiki Market Hours
Open 7 days a week, 9 am to 6pm, though many shops are closed on Wednesdays.
Want to do a Nishiki Market Tour?
If you don't speak Japanese, I highly recommend you book some guided tours in Japan, you'll get so much more out of your trip.
We like Context Travel's small-group guided tours because they are always led by locals–all graduate level academics or other professional experts in their field. We were guests of the company on this tour but recommend them highly around the world–you might remember that we did an interesting Tower of London tour with them a few years back.
Book a spot on this Nishiki Market Tour.