Update: This giveaway has ended.
Some of you might remember that for the last few years, I've participated in a fundraiser called Passports With Purpose. This annual event was started by a group of travel bloggers looking for a way to help support communities around the world. This cause is near to my heart. I feel incredibly lucky to be able to travel and I love the chance to use this little blog to do something real for a community in need. Best of all, I get to do this while giving you the gift of travel!
Here's what I mean…
What is Passports With Purpose?

Each year Passports With Purpose partners with a different nonprofit organization, carefully chosen for their experience working in a developing region. Participating bloggers procure a travel-themed prize to give away and then promote the fundraiser on their blogs and social networks.  Readers (i.e., you!) donate $10 on the PwP website and list which prize you want to win. The prizes are then are then raffled off to donors after the contest closes on November 18.
Past campaigns have supported sustainable farming in Honduras, libraries in Zambia, and safe drinking water wells in Haiti.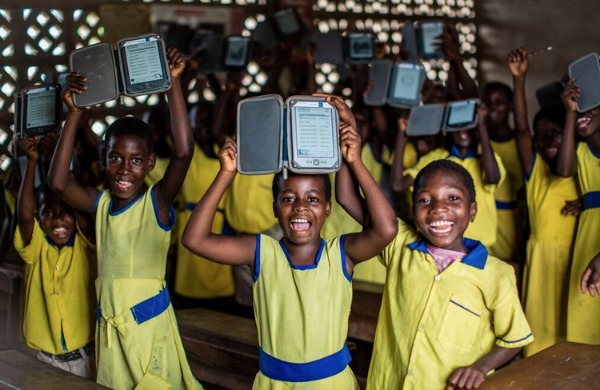 This year (2015), we are raising money to support Worldreader, an organization that seeks to improve literacy rates by providing digital readers and e-books to schools and libraries in the developing world. According to the organization, half of African schools have few or no books. All the donations we get for this campaign will go to send e-readers to five libraries in Kenya. The devices will give 6,250 children, teachers, and parents access to more than 50,000 books.
You can find out more about Worldreader and Passports with Purpose on their websites. Photos courtesy of Worldreader's Facebook page.
Donate and Win
Participating bloggers have secured almost 50 prizes this year! There are prizes for everyone regardless of where you live and your travel interests. Some of the prizes are practical and can be used anywhere, and others are I'd-never-be-able-to-afford-this, dream-come-true opportunities. You can see all this year's prizes in the 2015 prize catalogue.
Photo courtesy of ResorTime. Win this trip!
While I didn't recruit a prize donation this year, I'm working to promote this fundraiser and I'll be donating myself.
Here are some of the prizes I'm hoping to win…
Vacations:
Gift Cards + More:
Here's How You Can Win
Browse the full list of Passports With Purpose 2015 prizes and pick the prizes you want to win.
Click HERE to make a donation. Remember, you get one entry for every $10 you donate.
Once you've donated, visit the 2015 Prize Choice Form to choose which prize (or prizes) you want to enter to win.
Bidding will close November 18, 2015. Prize winners will be notified on November 22, 2015 via email. Thanks for your support–and, good luck!
If you donate, please let me know in the comments. Also, tell me which prizes you want to win!