Summer is officially here and with that comes outdoor events, parties, and potlucks.
My friends at the California-based ocean conservation organization, Turtle Island Restoration Network (a.k.a. SeaTurtles.org), invited me to contribute to a 4th of July recipe roundup they are doing to feature "sea-turtle friendly" vegetarian recipes. They are a great organization, I wrote about them once before, and I appreciate the work they are doing to promote sustainable fishing and environmental projects around the world.
They asked me to share one of my favorite summer recipes for their post. Here's what I sent them:
This black bean, tomato, and lime quinoa salad recipe is one of my go-to staples for summer parties and events–it's colorful, and but also healthy and hearty so I know that if there is nothing else vegetarian there, I won't starve to death. It has a ton of lime juice and keeps well when not refrigerated, so I'll probably be making it for our annual camping trip this 4th of July.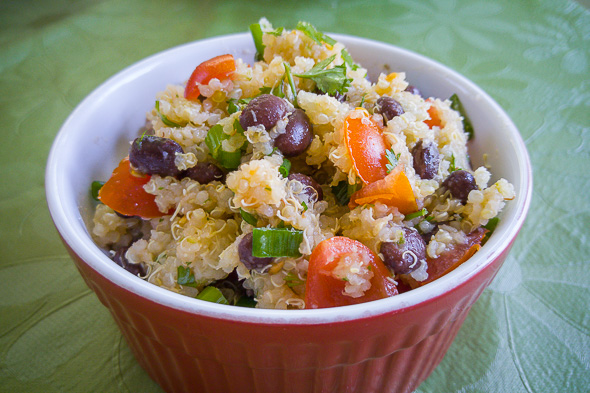 Black Bean & Tomato Quinoa Salad Recipe
Cook time:
Total time:
Ingredients
2 teaspoons grated lime zest
1/4 cup fresh lime juice (more or less to taste)
3 tablespoons of olive oil
1 teaspoon sugar, honey, or agave nectar
½ teaspoon salt
¼ teaspoon pepper
1 cup quinoa
1 (15-ounce) can black beans, rinsed and drained
2 medium tomatoes, diced
5 green onions, chopped
1/4 cup chopped fresh cilantro
Instructions
Whisk together lime zest, lime juice, oil, sugar, salt, and pepper in a large bowl.
Rinse quinoa and drain in a sieve.
Cook quinoa in a medium pot of boiling water, uncovered, until almost tender–about 10 minutes. Drain in sieve, then set sieve in same pot with 1 inch of simmering water (water should not touch bottom of sieve). Cover quinoa with a folded kitchen towel, then cover sieve with a lid (don't worry if lid doesn't fit tightly) and steam over medium heat until tender, fluffy, and dry–about 10 minutes. Remove pot from heat and remove lid. Let stand, still covered with a towel for 5 minutes.
Have a rice cooker? You can steam the quinoa in there to save time, thought the rice maker tends to leave the quinoa too soft so the dish gets mushy when you mix in the dressing and other ingredients. If you are looking for the best look and texture, skip the machine and steam it on the stove.
Add quinoa to dressing and toss until dressing is absorbed, then stir in remaining ingredients.
Add salt and pepper to taste.
Adapted from Epicurious.
---
What are your favorite (veg. or not) summer recipes? Share the links here…