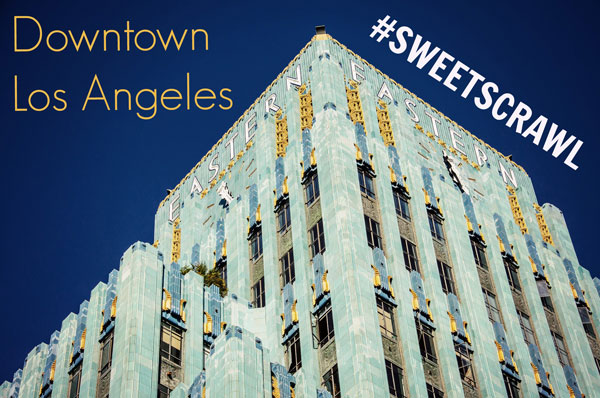 Hey, Angelinos: The occasional EIT reader meetup and dessert-fueled food tour we call "SweetsCrawl", is coming to Southern California!
Mark your calendars and join us on July 19 for #SweetsCrawl Downtown Los Angeles.
This event feels like a homecoming for me — I moved to Los Angeles after growing up and attending college on the East Coast. L.A.'s traffic initially terrified me, and later exhausted me. Still, as I learned to navigate life in California, I fell in love with this big and crazy city. I stayed there for six years (only being lured away by a handsome nerd who lived and worked in Silicon Valley). L.A.'s diverse communities fueled my wanderlust and helped me hone my skills in city exploration.
Downtown has long been one my favorite L.A. neighborhoods. The once struggling urban core, is full of diverse shops, restaurants, museums, and colorful, art-deco architecture. In recent years, the neighborhood has seen a wave of new investment and it's full of exciting new businesses. The best part is that Downtown is very walkable with easy access to public transportation. The people who still believe the 80's mantra, "nobody walks in L.A.," have clearly never been Downtown! I'm excited to share my DTLA love with you, dear SweetsCrawl-er!
This SweetsCrawl will be co-hosted by Vegan Chica, a vegan baking and catering company based in nearby Atwater Village. "La chica" herself, Xochitl, will be bringing some tasty, vegan sweets for tour guests to sample. (Update: Click here to read about the pop-up brunch Vegan Chica is hosting just prior to SweetsCrawl. Join us there, too!
As usual, the event is free, but we'll be collecting donations for a local, food-oriented nonprofit: Homeboy Industries. For more than 25 years, this award-winning organization has helped former gang members and the previously incarcerated, by offering hope, training, and job skills. Their goal: To help former gang members redirect their lives and become contributing members of their families and communities. Through programs like "Homeboy Bakery", "Homeboy Diner", "Homeboy Grocery", "Homeboy Farmers Market", and "Homegirl Cafe," students develop skills in culinary entrepreneurship and build a career in the food and hospitality industries. Their programs bring opportunity to very disadvantaged young people and cut the rate at which they re-offend. Check out this video — and try not to cry! I'm excited to support this important work.
Here's what you need to know:
What: SweetsCrawl Downtown L.A. is an Ever In Transit reader meetup, walking tour of a vibrant neighborhood, and a celebration of all things sweet! We'll visit 5 or 6 shops across the city to sample locally made cupcakes, chocolate, pastries, ice cream, and more. We'll end the evening at a local pub (optional) to wash down the sweets with a good local beer or a glass of wine.
When: Saturday, July 19. We'll start at 3:00 PM, end at about 7:00 PM. Please plan to arrive about 10 minutes early (2:50).
Where: We will meet at the entrance to the 7th Street/Metro Center rail station at the corner of 7th and Flower Streets  – [view map]. Parking is expensive in Downtown L.A., so please try to take the Metro rail! The event will end near another downtown metro rail station. Can't take transit the whole way? Park at one of the free Park & Ride lots and take the rail into downtown. 
Cost: Free, but with a suggested donation of $20 for Homeboy Industries. Bring money to try something small at each stop. Better yet, bring a friend you can split stuff with.
Please RSVP using Eventbrite. Space is limited.
Other things to know:
Please eat a LIGHT meal before we meet. I don't anyone to pass out from all the sugar.
Want to see what SweetsCrawl is all about? Check out the wrap-ups from our walks in San Francisco, Oakland/Berkeley, and a reader-organized event in Atlanta, Georgia.
I hope to see you there!