When we booked our ticket for a one-month trip through South America, I was elated. That was until I woke up in the middle of the night thinking about this: What should we do with our pets?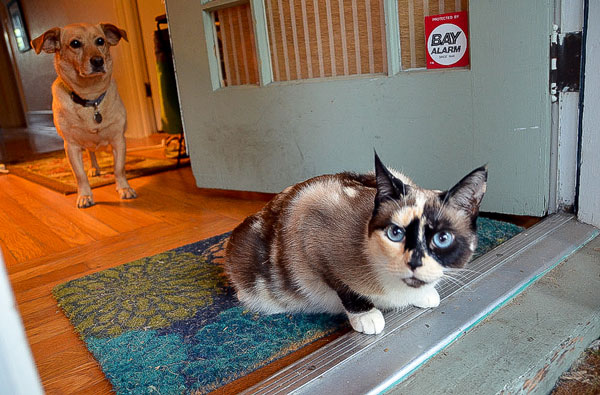 We have one cat, Sylvie, and a dog, Posey. When we go on vacation, we leave the dog with my mother-in-law who adores her. Unfortunately, Sylvie can't go because her husband is allergic to cats. Even if he was not, my cat wouldn't want to leave home. Like most cats, she is uncomfortable when taken out of her familiar environment.
Sylvie is pretty low-maintenance—she is young and healthy, and eats like a bird so I'm comfortable leaving her home alone for up to 3 days–with plenty of food and water, of course. For longer trips (3 days to 3 weeks) we've always had friends stop in periodically to check on her. For an extended trip, we knew it would be a lot to ask of our friends to stop in so frequently, not to mention, hard for her to be alone for so long. I knew she would hate being boarded, and while I knew I could hire a local pet sitter, I worried about how much that would cost.
Find a Free (!) Pet Sitter Online
My worries about the cat continued for a few weeks until I stumbled upon a blog post about some new websites that match travelers with homeowners who are looking for people to come watch their homes and/or pets.  The authors describe how they had spent the last few years using these websites to find short-term house sitting opportunities—they weren't being paid, but they were able to stay rent-free in exchange for keeping an eye on homes, gardens, and pets. Not only did I think this was a brilliant way to save money when you travel, I thought this could be the solution to our problem! We live in the San Francisco Bay Area–it's one of the most expensive places to visit in the country. Surely there would be people interested in coming to watch our pets in exchange for a free place to stay.
I set up a trial account with one of the websites the article mentioned, TrustedHousesitters,  drafted a profile, and crossed my fingers.  Within an hour, we had 3 offers from potential pet sitters! By the next morning, we had 15 offers from people interested in coming to stay at our house in California. We were even getting interest from abroad–petsitters in the UK, France, and Australia emailed me! It worked better than I had hoped.
(Update: December 2015) We've now used these online pet-sitting services to find dog sitters and cat sitters for 6 different trips, ranging from 10 days to 4 weeks. We've had good luck so far, finding responsible and caring pet sitters, but it was not without some research up-front. These are strangers, of course. You have to be careful about who you invite.
Here are some tips for finding a pet sitter on these housesitting sites:
How to Post a Request for a Pet Sitter:
Include a few recent photos of your clean and tidy home, pets, and yard (if lawn or garden maintenance will be required)
Include in your bio why your home would be a nice, comfortable place to stay.  We mentioned that Kevin is a self-employed software engineer and that we had an office with a large LED monitor, printer, scanner, and desk setup that a visitor could easily plug their laptop into and work comfortably for hours. This is very attractive to the many "digital nomads," bloggers and remote tech workers that are drawn to housesitting, as well as regular travelers that want a comfortable place to keep in touch and research their upcoming adventures. We also mentioned we enjoy cooking and have lots of kitchen gadgets, dishwasher, on-site laundry, etc.
Include an honest description of your location and why it would be an interesting place to visit. Think about your place from a traveler's perspective and the things they would want to know. What is there to do in your local area? How far is it from major cities/attractions? Do you need a car to stay there comfortably or can you get around using public transit?
 How to Choose a Pet Sitter:
Review applicant bios/response emails for thoroughness and feeling of authenticity. Most of the emails we got sounded very real, people expressing their interest in our post and saying why (e.g. they've always wanted to visit San Francisco, they have freelance clients in Silicon Valley they can visit, they love the photo of Sylvie!), but we had one or two where the email just said something like, "I'd be interested in staying at your place. Send me an email."). We also knocked out a few that didn't have much of a profile. When I was reading the profiles I wanted to see good quality photos, information about their life story (why they are interested in housesitting), experience, and indications that they are good with animals (the housesitters we ultimately selected posted photos of them with their own former pets and pets they had taken care of recently).
Read reviews and contact references. On our first time using the service, we decided to prioritize applicants that already had reviews posted in the system. We also asked for a reference that we could contact, who gave a great review of her experience.
Review police reports and/or do your own online sleuthing. Trustedhousesitters has a feature that allows potential sitters to volunteer their police records or you can do other online research (e.g. address search using a tool like Zabasearch) to see if their stories match up. Don't be too concerned with sounding paranoid, do whatever you need to make yourself comfortable with whether the applicants are who they say they are and have good intentions. Potential housesitters understand the concerns you may have with inviting a stranger to live in your home.
If possible, ask to meet the house sitter in person before deciding. In a few cases, we have had California-based applicants that said they would be able to meet with us beforehand and that was ultimately made those two our top choices. For our first pet sitter, we decided to go with a couple who were in between a local Bay Area housesitting stint and a trip to visit family in Hawaii, so they offered to meet us at our home before their flight out of San Jose. That made us feel much more comfortable and I think it worked out for them too, because they could get a look at the house and knew what to expect.
Things to Do Before You Leave:
Ask a local friend to serve as a local contact to help out in case of any house or pet emergency. We didn't want the house sitters to be alone in dealing with veterinary visits, flooded basement, etc.
Make sure you have stocked up and have sufficient food and supplies (cat litter, flea treatment, medications, etc).
Clean the house well and leave space for your housesitter to move in. Leave it as you would like to find it. Empty a dresser if possible, make room in the closet, and in the bathroom drawers.
Provide a list of house instructions/emergency contacts/local resources. One of our house sitters requested we do this and send them this information in advance. Every time I update the document and send it to the new housesitter so they have the information before they arrive. Here's a link to the document I sent them that you could use as a model.
Finally–How Did it Go?
It couldn't have gone better! Our first pet sitters, Jim and Marianne, were a retired couple from San Diego. They stayed in regular contact throughout our stay. They arrived after we had already left for our trip, so they called my local friend upon arriving to let her know they had gotten into the house okay. Marianne sent me daily email updates throughout our trip, always including some great photos of our cat. Some of her photos included funny captions like this one: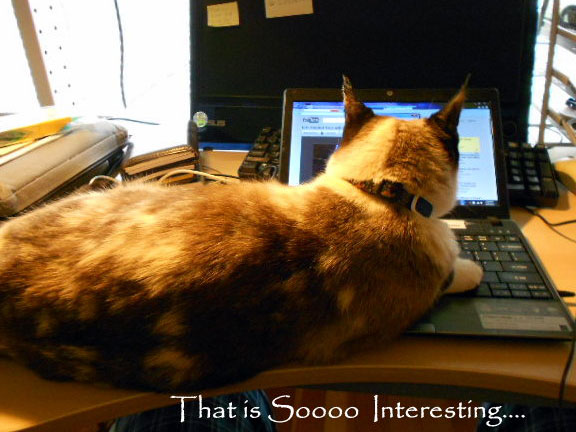 This one…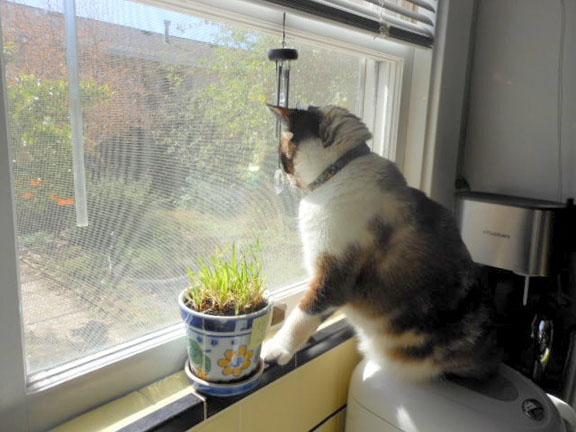 And, my favorite (taken at the end of our trip when Marianne got out her suitcase to pack):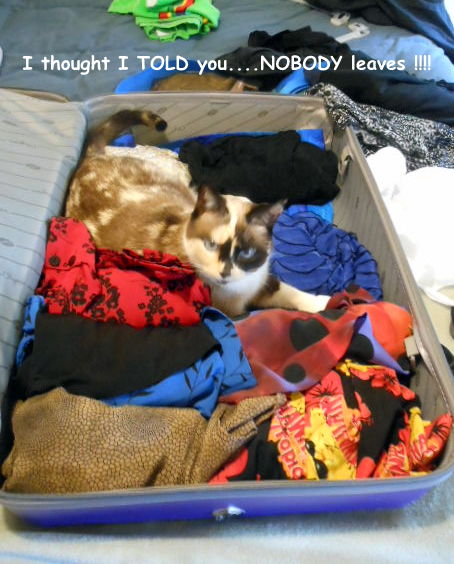 As you can see, the cat was happy and well cared for. When we returned home, she didn't seem to notice–if anything she missed them, and missed being the center of attention!
We've stayed in touch with Jim and Marianne since we returned and they really did become part of the family. Marianne started signing her emails, "With love, Sylvie's Grandparents." I even got to meet up with them few months later when they were doing a different housesit in the Bay Area.
How To Join Pet Sitting Services
TrustedHousesitters is a subscription service that currently (December 2015) charges $24.90/month (for a three-month plan) or $99 for an annual plan. There are a few other services (Mind My House and House Carers) but Trusted Housesitters seems to have the most members and strongest presence in the U.S.
When I first joined, I subscribed for a one-month membership, and arranged housesitters two different trips to maximize the use of that monthly fee, putting my membership on hold after that first month. The next few times I used it I still just bought single month memberships because I wasn't sure when I'd need it again.
This year I decided to opt for the annual membership because I have a few different trips coming up, and want to experiment with bringing a housesitter in for even shorter trips. At $99, the annual membership is cheaper than paying for two months, and of course, much cheaper than finding a paid housesitter.
–> Use this link to sign up for TrustedHousesitters and get 20% off your subscription! 
(This is my referral link and I'll get a small discount on my membership renewal, but I wouldn't recommend it if I didn't love the service.)
Please comment if you have any other questions or comments about finding a pet sitter or using these house sitting services.
---
Have you ever had a house sitter/pet sitter? Or been a house sitter/pet sitter? What do you do with your pets when you go away on vacation?