The first thing Kevin asked our guide, Karim, when we met outside of a tube station somewhere in the East London borough of Hackney was, "Does everyone on your tours sign up after watching 'Exit Through the Giftshop'?"
I groaned, knowing how utterly uncool that made us sound. As if all we knew about hip East London's street art scene was what we learned from watching a documentary on Netflix.
But it was true.
We had seen the film, directed by London's most famous street artist, Banksy, a few months before and had been curious about the community and culture behind this art form that straddling the border of fine art and vandalism. I appreciated the explosion of street art I'd seen in cities around the world in recent years and wanted to learn more about it. So I read some reviews of walking tours and bought us two tickets from Street Art London, an organization that works to facilitate and professionalize the art by bringing artists from around the world and organizing festivals, public commissions, lectures, and exhibitions. It seemed they would be a good source.
And they were. Our guide, Karim, walked us around several neighborhoods in the North East London Borough of Hackney for over four hours, sharing the stories of hundreds of pieces. Some were large and colorful and you could not miss them. Others were tiny, or otherwise (sometimes purposefully) hidden, so we needed him to point them out. One of my favorites was this tiny mural painted on a piece of chewing gum stuck to the sidewalk. Creative, though most passers by would never notice it. And subversive, because this artist, Ben Wilson, choosing to paint on "trash" and not the sidewalk, couldn't be fined for damaging public property.
One aspect I found most interesting was the ephemeral nature of these works. The artists walk a thin line between vandalism and art, and on any given day it's possible to see many of the works disappear–painted over by the city, the property owner, or even other street artists. Karim had taken another tour group out just three days before, and he saw at least two new pieces during our walk, including this haunting work:
In some cases, the artists were given approval to paint or even paid a commission. Once an artist achieves some amount of recognition, property owners in the area will seek out those artists and pay them to adorn their buildings with professional murals. We saw one artist working on a commissioned project as we passed.
The exploding market for street art causes works by the most famous artists to be vandalized or stolen. This typical tile mosaic from French artist, Space Invader, was nearly ripped off the wall by someone hoping to re-sell it.
Other works, like this one by Banksy, are so valuable that the buildings on either side of this alley were sold for an inflated price and plexiglass cover was placed over the mural by the new owner to keep it from being damaged. This alley is now privately owned, lined with plush couches, a D.J. booth and is used as a trendy night club. We even saw one piece that was a collaboration between Banksy and another artist. A plexiglass covering was installed over the Banksy portion of the work, leaving the other artist's contribution to decay under the elements.
With Banksy's success, he's developed more than a few enemies within the street art community. Karim told us the story of this piece which had undergone several transformations over the years as Banksy and an Italian artist named Ozmo, took turns painting over each others work. This most recent iteration by Ozmo, Big Fish Eat Small Fish is a stark critique of how success makes people to walk all over those beneath them.
More photos of East London Street Art:
Pasteup with shadow of the figures (now faded) painted on the sidewalk
Knowing the city would paint over anything that was written on this building, one artist, Mobstr, painted the word 'here' a few at a time in a seemingly random configuration. The city graffiti buffers then painted over it in a darker color. Then the artist would repeat, bit by bit until the buffers caught on that he had been leading them into inadvertently paint a question mark — a characteristic figure in the artist's work.
Using another subversive technique, the art collective called The Toasters painted this dark grey square, with a contrasting light grey shape, meant to evoke the shape of a toaster. This work, hidden in plain view, fooled the city's graffitti abatement staff into thinking that it was work they had already done to remove street art, rather than the intentional work of an artist.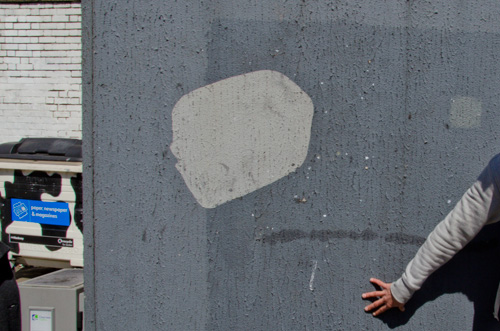 Here's another piece by Mobstr, a snarky plaque that you could walk by without noticing it wasn't an official marker of one of London's many historic monuments. It's characteristic of Mobstr's biting critiques of the street art scene. With such pieces exclaiming, "Oh wow look it's some street art," and others examining the various ironic layers of the street art scene, Mobstr was Kevin's favorite artist on the tour. This stuff is right up his alley (pun intended, sorry).
A mural that, though it looks like paint, was actually made out of tiny slivers of black electrical tape.
Multicolored mushrooms are mounted on rooftops throughout the city by the artist, Christiaan Nagel.
Stick figures characteristic of the British artist, Stik, who evokes an incredible degree of emotion through deceptively simple imagery.
Wild animals in black and white, characteristic of the Belgian artist, Roa.
One of my favorite pieces, by Portuguese artist, Vhils. Beige plaster was painted over this brick wall and then etched off to create a portrait, in relief.
Here is a close-up of the plaster etched away.
And many other beautiful pieces, big and small:
Find out more:
The organization Street Art London offers guided walking tours on Tuesday, Saturday, and Sundays. The Saturday tour we did was four hours long, which I thought at the time of booking might be too long, but we found the time flew by. It included a short break mid-day with chance to eat at a pub. Tickets cost £15.