We were exploring galleries and shops in the West Queen West neighborhood of Toronto as part of an art and design tour organized by TBEX. I'd signed up for it at the last-minute and didn't really know what it would include. It skewed toward contemporary art galleries and high-end clothing boutiques which I'm generally not interested in, so I was a little out of my element. Still, I enjoyed walking the streets and taking photos of the attractive neighborhood.
I stopped to snap a picture of a cute motor scooter parked in front of a boutique. Not the most interesting picture, I know, but it helped me pass the time.
Later on, when browsing the photos on the camera, I noticed something I hadn't seen before: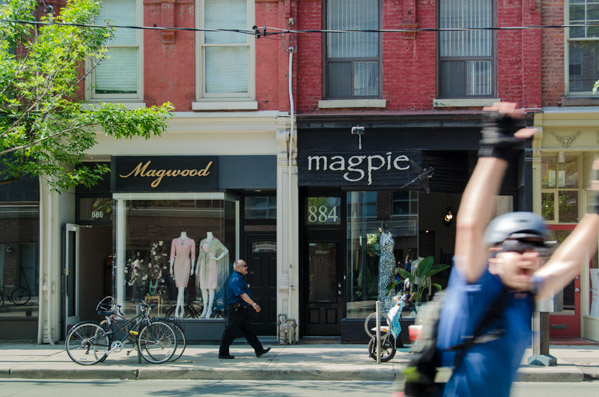 A passing cyclist had jumped into my photo. 
I hadn't taken more than a second to frame the admittedly boring shot, so the speed at which this guy reacted was impressive. I'm guessing this wasn't his first time.
How many other Toronto tourists have taken home a picture of this guy?
---
Foto Friday is a series where I go back through my archives to share photos that I love either because I think they are beautiful or they have an interesting story. I hope you enjoy them as much as I do!