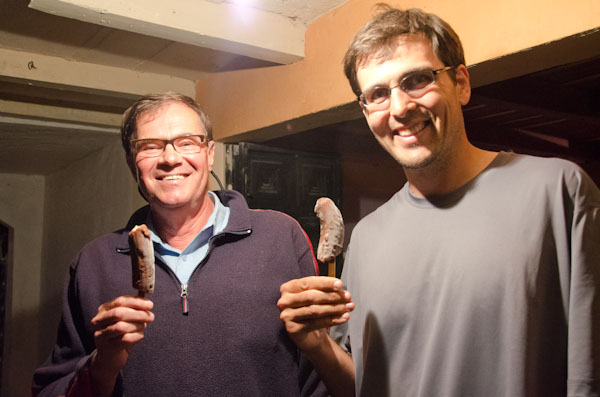 We haven't written enough lately about the good people we've met out in this big, wide world of ours but I just found this photo and smiled.
Robin and his wife Arlene were taking photos of hummingbirds on the patio of the lodge where we were staying in Mindo, Ecuador. I could tell they were serious about their photography.  The moment I met them, I knew for sure they would get along with Kevin and his dad, who were out hunting the elusive Cock-of-the-Rock at the time. Robin and Arlene had done the same hike the morning before.
The couple was from Saskatoon, Saskatchewan. I'm embarrassed to say that central Canada has always been somewhat mysterious to me, but meeting Dustin earlier this year (who also hails from that part of the world) had put the city on the map for me. Plus, it's just fun to say… "Saskatoon, Saskatchewan." Try it!
It was their second or third trip to Ecuador and they were a wealth of knowledge. Like how going from Mindo to Otavalo would be a nightmare, and it was!  They even knew of a tiny little place down a side street where a woman sold chocolate-covered frozen bananas from her kitchen for only 25 cents.
Turns out they were travel writers and photographers by trade who had been all over the globe. I loved to hear the stories from their adventures that they currently self-publish at Parkland Publishing.
Arlene and Robin–Hope our paths meet again! Please let us know if you're ever in the Bay Area, and we'd love to come visit the farm when we make it to Saskatoon! 
---
Foto Friday is a series where I go back through my archives to share photos that I love either because I think they are beautiful or they have an interesting story. I hope you enjoy them as much as I do!